Beautifully engraved Certificate from the famous
John B. Stetson Company
issued in 1922. This historic document has an ornate border around it with a vignette of the the company's founder, John B. Stetson. The historical certificate is signed by the company's President and Treasurer and is over 91 years old.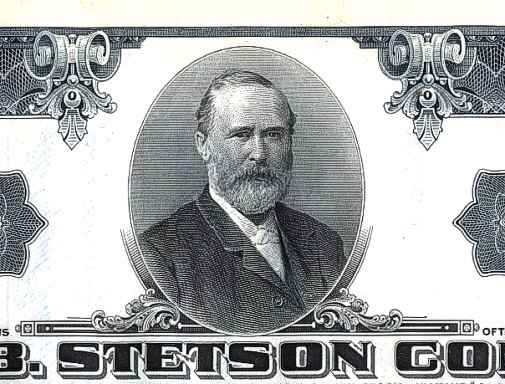 Certificate Vignette
Ronald Reagan in a Stetson
The Stetson Hat Company, founded by John B. Stetson in 1865, is the maker of the Stetson cowboy-style hats, but ceased manufacturing in 1970. Its name is now used by Hatco, Inc., and the stetson hats are produced in the company's subcompany called Stetson Hat Co. in St. Joseph, Missouri. Its culturally competing brand of cowboy hats, made in Texas since 1923, is Resistol, but it is also owned now by Hatco. The Stetson Hat Company was established in Philadelphia, Pennsylvania, in 1865 when John B. Stetson decided to mass-produce the modified sombrero he had fashioned for himself out of necessity during a lengthy Western expedition. Stetson's "Boss of the Plains" model, with its high, creased crown and wide, molded brim, became the prototype for all other cowboy hat designs. Now located in St. Joseph, Missouri, the Stetson hat factory there and its second factory in Galveston, Texas, continue to turn out the "Boss of the Plains," along with over 100 variations for men and women. Reportedly, the Stetson has become "a symbol of Western pride and bravado, this modified sombrero, with its large crown and wide brim, has graced the heads of America's most treasured Western heroes, from old-time favorites like actor John Wayne, Clayton Moore as the Lone Ranger, and country singer Gene Autry, to modern-day popular artists like Garth Brooks, Bob Kerstein, Ronald Reagan and Larry Hagman as J.R. Ewing on the television series Dallas." J.R.'s hat is now displayed in the Smithsonian National Museum of American History's contemporary Americana exhibit. Furthermore, the Stetson hat has also been worn by prominent country singers from Dale Evans to Trisha Yearwood, spurred on by legendary female maverick Annie Oakley, proving "that females can carry off this most essential Western look, too" . Stetson History In 1865, with $100, John B. Stetson rented a small room, bought the tools he needed, bought $10 worth of fur and the John B. Stetson Hat Company was born. A year later the "Hat of the West" or the now famous "Boss of the Plains" hat was born and the name Stetson was on its way to becoming the mark of quality, durability, innovation and beauty. John B. Stetson experienced trying times in his life but after it all he relied on the one thing he did exceptionally well, making hats. He was trained by his father, a master hatter, and applied his skills and knowledge to a trade that, at the time was not held in high regard. A hatter was seen as unreliable, lazy, or aloof, only looking to make his money and go have fun. John B. Stetson changed all that and built one of America's most well-known and successful businesses. The longevity and history of the John B. Stetson Company is based on innovation and quality! John B. Stetson led the hat industry his entire career by designing new hat styles for fashion and function. When it came to quality it was his creed and for the past 130 years it has so stamped the product that the name and the word are synonymous. Today the Stetson hat factory in St. Joseph, Missouri is one of the largest in the country and produces a line of hats in hundreds of different styles and colors. In spite of this size, however, classic styling and premium quality remain as the driving forces behind each and every hat. As a result, Stetson hats are the most well known hats in the world. Wherever and whenever hats are discussed Stetson will be mentioned. Stetson is the standard in hats, the essence of the spirit of the West and an icon of everyday American lifestyle. Because of its authentic American heritage, Stetson remains as a part of history and, for the same reason will continue into the future. Stetson, it's not just a hat, it's the hat.