Beautifully engraved certificates from the Limited Brands, Inc issued in 2009. These documents were printed by the American Banknote Company and have an ornate border around it with an underprint vignette of the company's name over the image of a sexy woman next to a menacing ogre. This item has the printed signatures of the Company's Chairman and Chief Executive Officer, Leslie H. Wexner and Chief Financial Officer, Stuart Burgdoerfer.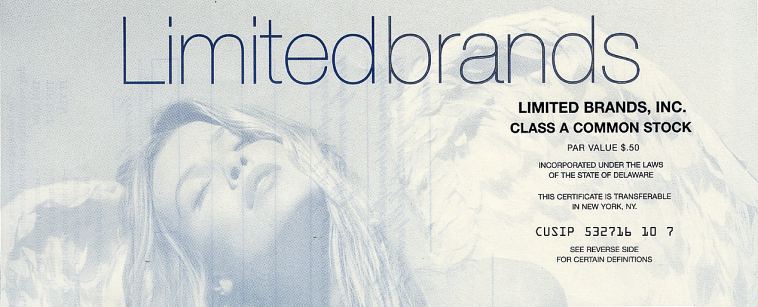 Certificate Vignette
Limited Brands NYSE: LTD (formerly known as The Limited, Inc.) is an American apparel company based in Columbus, Ohio. In 2006 it reported 9.7 billion dollars in revenue for the last fiscal year. In 1912 Bella Cabakoff emigrated with her parents from Russia to Columbus, Ohio to escape persecution. At 21, she became the youngest buyer for the Lazarus department store chain. However, after spending over 20 years with Lazarus, in 1951 she and her husband Harry Wexner opened a women's clothing store named Leslie's (after their son) on State Street. This store became the training ground for Leslie Wexner. In 1963 he borrowed $5,000 from his aunt and opened a store at the Kingsdale Shopping Center in Upper Arlington. This store, was named "The Limited" because the store focused on clothing for younger women, unlike his parents' general merchandise store. Later in 1964, Bella and Harry closed their store to join their son in his venture. The original board consisted of only the three family members and long time friend of Harry and Bella, Jim Waldon, (who served as Senior VP): Bella Wexner (who served as secretary until her death in 2001), Harry as chairman (who served until his death in 1975) and Leslie who succeeded his father as the chairman and later became CEO. He and his family continue to control 17% of LTD. In 1969, Wexner took The Limited Brands public, listed as LTD on the NYSE. In 1977, The Limited moved into its main headquarters on Morse Road in Columbus, Ohio, where it still operates from today. The 1980s started a string of acquisitions: In 1982, the Victoria's Secret brand, store, and catalogue were purchased from Roy Raymond for $4 million. Also in 1982, 207 Lane Bryant stores were purchased. In 1985, a single Henri Bendel store was purchased for $10 million and 798 Lerner stores for $297 million. Finally, in 1988, 25 Abercrombie & Fitch stores were purchased for $46 million. The Limited then phased out its ownership of the A&F brand in 1996, when it was spun off into a publicly-traded company. The 1990s saw the initial development of the Limited Too, Bath & Body Works, Structure, and Victoria's Secret Beauty. Later in 1998, several Bath & Body Works stores were converted to The White Barn Candle Company stores to begin a home fragrance brand. LTD currently employs over 90,000 people and reported $9.7 billion in revenue in 2006. In addition to retail brands, The Limited has an extensive support system of companies ranging from Logistics to Design to Real Estate. Limited Brands does not franchise, but directly owns and operates more than 4,000 stores in the United States. On July 9, 2007, Limited Brands announced it would sell 75% of its Limited clothing chain to Sun Capital Partners, Inc. Limited Brands currently operates the following retail brands: Victoria's Secret Pink (Victoria's Secret) Bath & Body Works Henri Bendel C. O. Bigelow The White Barn Candle Company La Senza Previous brands that have spun off include: Lane Bryant - sold in 2002 to Charming Shoppes. Abercrombie & Fitch - acquired by The Limited in 1988 and went public as NYSE: ANF in 1996. Lerner New York - sold and became New York and Company. The Limited Too - Tween Brands, Inc., spun-off in 1999. Structure - converted to Express Men, brand name later sold to Sears. Aura Science - merged with Victoria's Secret Beauty. Express - on May 15, 2007, Limited Brands sold a 75% stake in Express to Golden Gate Capital Partners. The Limited - on August 3, 2007, Limited Brands transferred 75% ownership of its flagship Limited chain to buyout firm Sun Capital Partners Inc. History from Wikipedia and OldCompany.com (old stock certificate research service).