Beautifully engraved certificate from the Lucent Technologies Inc. . This historic document was printed by the Banknote Corporation of America and has an ornate border around it with a vignette of men using Alexander Graham Bell's Photophone. This item has the printed signatures of the Company's Chairman of the Board and Treasurer. At its peak, the stock traded for over $60 / Share.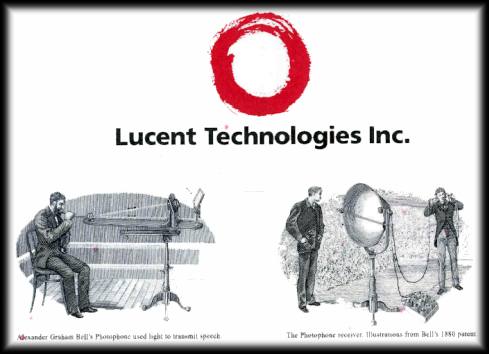 Certificate Vignette
The following History is from a Lucent Technologies Press Release: On February 14, 1876, Elisha Gray lost his race to invent the telephone; Alexander Graham Bell put in a patent application just hours before Gray filed one. Gray, however, had already left his mark on telephony when, in 1869, he and Enos N. Barton formed Gray and Barton, a small manufacturing firm based in Cleveland, Ohio. Three years later, the then Chicago-based firm was renamed the Western Electric Manufacturing Company. By 1880, it was the largest electrical manufacturing company in the United States, noted for its production of a variety of electrical equipment, including the world's first commercial typewriters, telegraph equipment, and Thomas A. Edison's electric pen. A year later, in 1881, when the growth of the telephone network was outstripping the capacity of smaller suppliers, American Bell purchased a controlling interest in Western Electric and made it the exclusive developer and manufacturer of equipment for the Bell telephone companies. Innovations In 1907, Theodore N. Vail combined the AT&T (formerly American Bell) and Western Electric engineering departments into a single organization that, in 1925, would become Bell Telephone Laboratories. In the course of its ongoing research, Bell Telephone Laboratories made several discoveries that would touch the lives of millions in years to come. For example, Bell Labs developed the first commercially viable system for adding sound to motion pictures. Combined with studio and theater equipment manufactured by Western Electric, this system moved Hollywood quickly from silence to sound. The first demonstration of television in the United States in April 1927 was another notable first for Bell Labs. Ten years later, in one of its most memorable moments, Dr. Clinton J. Davisson became the first of 11 Nobel Prize winners from Bell Laboratories for his experimental confirmation of the wave nature of electrons. After playing a critical role in providing communications and command equipment for the U.S. military during World War II, Western Electric was able to direct its efforts toward filling the pent-up demand for telephones. In 1946, it produced a record 4 million telephones. Bell Labs directed its research in new areas as well. Three of its scientists received the Nobel Prize for their invention of the transistor in 1947. Bell Labs moved on from there to develop distinguished "firsts" in communications that include the laser, Telstar satellites, electronic switching, UNIX operating system, and packet data switching. Regulation and separation In 1956, AT&T signed a consent decree to settle a 1949 antitrust suit brought by the U.S. Department of Justice. The decree limited Western Electric to manufacturing equipment for the Bell System and contract work for the government, so Western quickly sold its small non-telephone subsidiary Westrex to Litton Industries and its holdings in Northern Electric (now known as Nortel Networks) to the public. In 1979 and 1980, the FCC conducted Computer Inquiry I and II, which restricted Western Electric from selling enhanced services, except through a fully separated AT&T subsidiary. That subsidiary, American Bell (later called AT&T Information Systems), began operations on Jan. 1, 1983. In the meantime, AT&T and the Justice Department settled a 1974 antitrust suit, with a modification of final judgment (MFJ) to the 1956 consent decree. AT&T agreed to divest its local telephone companies effective January 1, 1984, and in turn was freed from other 1956 restrictions. As part of divestiture, Western Electric's charter was assumed by a new unit, AT&T Technologies. AT&T Technologies had separate market-focused business units to manufacture and sell consumer products, network systems, technology systems, and information systems. Globalization AT&T Technologies broadened its focus to address the global communications revolution. Before divestiture--in the late 1970's--Western Electric formed Western Electric International to undertake projects and joint ventures in Korea, Saudi Arabia, and Iran. Throughout the 1980s, AT&T continued to pursue global markets through direct sales and joint ventures including AT&T Network Systems International, Goldstar Semiconductor, AT&T Taiwan, AT&T Microelectronica de Espana, Lycom, AT&T Ricoh, and AT&T Network Systems Espana. In 1989, AT&T Technologies branched into several business units, including AT&T Network Systems, AT&T Global Business Communications Systems, AT&T Microelectronics, and AT&T Consumer Products, which would all later combine with Bell Labs to become the original Lucent Technologies. During the 1990s, these business units continued to grow their market leadership in the U.S. and exhibited double-digit growth internationally. Complexities in the marketplace and within AT&T, however, led to a decision in 1995 to totally restructure the communications giant. In September 1995, AT&T proposed forming three separate, publicly traded companies to serve the increasingly divergent business needs of its customers. Lucent launch In February 1996, the soon-to-be-spun-off systems and technology unit of AT&T renamed itself Lucent Technologies and launched its separation with an initial public offering of stock issued in April 1996. The spin-off was completed in September 1996 when AT&T distributed its shares of Lucent to AT&T shareholders. Since its launch, Lucent has become a major player in optical, data, and wireless networking; Web-based enterprise solutions that link public and private networks; communications software; professional network design and consulting services; and communications semiconductors and optoelectronics. The company has completed 38 acquisitions totaling more than $46 billion, including a $24 billion purchase of Ascend Communications, which made Lucent the leading provider of data networking equipment for service providers. Its research and development arm has remained one of the world's most prolific invention factories with more than 40,000 inventions since 1925. Work under way at Bell Labs is re-defining what is possible in communications with announcements of the first all-optical switch, software that makes Web content accessible by telephone, and a record for the fastest transmission of data over fiber. The company spun off its enterprise networking group on September 30, 2000, distributing shares of the new company--Avaya Inc.--to Lucent shareholders. As it moves into its 2001 fiscal year, the company has continued efforts to realign itself for leadership in the fast-growing broadband and mobile Internet infrastructure market markets with more innovations, acquisitions, and plans to spin off its Microelectronics business and sell its Power Systems business.