Beautifully engraved certificate from Magic Fingers, Inc. issued in 2001. This historic document was printed by the Security Columbian United States Banknote Company and has an ornate border around it with a vignette of an eagle. This item has the printed signatures of the Company's President, and Secretary, and is over 10 years old.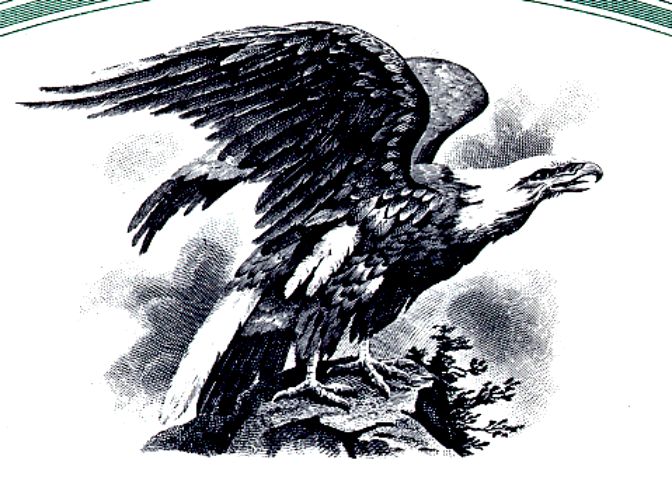 Certificate Vignette
Magic Fingers, Inc. was organized in New Jersey in 1959 and in October 1961 was merged with a Delaware corporation having the identical name and which succeeded to its business. It was engaged in the production, sale and distribution directly and through franchise dealers of a device called ''MagicFingers" which is an electrically powered device which, when attached to the springs of a bed and placed in operation by the manually operated timing control switch with which it is connected produces a gentle massaging action which is spread evenly over the entire surface of the bed for selected periods of time up to one-half hour. Thr beds were used by motels and hotels. The inventor of the Magic Fingers Vibrating Bed, John Houghtaling, died last week at the age of 92. Houghtaling patented his invention in 1962 (US 3,035,572), and founded Magic Fingers, Inc. to commercialize it. His company installed millions of units in hotel and motel rooms across America in the 1960s and 70s. Houghtaling wasn't the first inventor to conceive of a mechanical device to relieve weary or weak muscles. In 1869, Allen L. Wood of New York City, patented an "apparatus for treating diseases" (US 97,944) that consisted "of certain mechanisms, whereby circular or rotary motion... is made to perform several operations of rubbing, kneading, and giving vibratory and other action to muscles and various parts of the system." Wood's device (see below) looks more like a medieval torture rack designed to extract confessions than heal the sick. History from
StockResearch.pro
(Professional Old Stock Certificate Research Service) and
WWI Liberty Bonds Buyer
.