Beautifully engraved certificate from the McGraw - Hill, Inc. issued in 1973. This historic document was printed by the American Banknote Company and has an ornate border around it with a vignette of an allegorical woman reading a book. This item has the printed signatures of the Company's President, Shelton Fisher and Secretary, and is over 48 years old.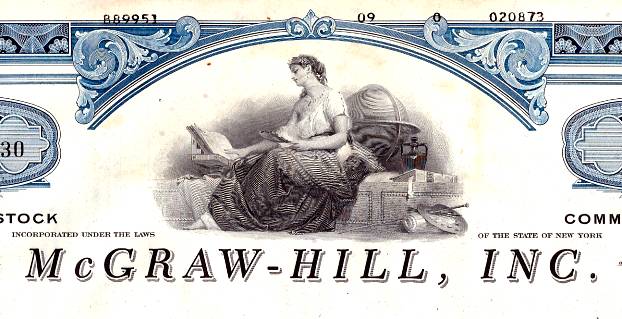 Certificate Vignette
The McGraw-Hill Companies, Inc., (NYSE: MHP) is a publicly traded corporation headquartered in Rockefeller Center in New York City. Its primary areas of business are education, publishing, broadcasting, and financial and business services. It publishes numerous textbooks and magazines, including Architectural Record and Aviation Week, and is the parent company of Standard & Poor's, Platts, and J.D. Power and Associates. It is the majority owner of the Canadian publisher McGraw-Hill Ryerson (TSX).[2] The company has its corporate headquarters in 1221 Avenue of the Americas, Midtown Manhattan, New York City. The McGraw-Hill Companies traces its history back to 1888 when James H. McGraw, co-founder of the company, purchased the American Journal of Railway Appliances. He continued to add further publications, eventually establishing The McGraw Publishing Company in 1899. His co-founder, John A. Hill, had also produced several technical and trade publications and in 1902 formed his own business, The Hill Publishing Company. In 1909 both men, having known each other for some time and sharing the same interests, agreed upon an alliance and combined the book departments of their publishing companies into The McGraw-Hill Book Company. John Hill served as President, with James McGraw as Vice-President. 1917 saw the merger of the remaining parts of each business into The McGraw-Hill Publishing Company, Inc. McGraw-Hill Publishing Company, Inc became The McGraw-Hill Companies in 1995, as part of a corporate identity rebranding. In a recent strategy move (2007), McGraw-Hill launched an online student study network, GradeGuru.com. This new offering gives McGraw-Hill an opportunity to connect directly with its end users, the students. The McGraw-Hill Companies organizes its businesses around three segments, based upon the market they are involved in. McGraw-Hill Education provides materials, both traditionally and online, for all levels of education. The company also provides references & trade publications for the medical, business and engineering professions.[6] Imprints within McGraw-Hill Education include: CTB/McGraw-Hill Glencoe/McGraw-Hill The Grow Network/McGraw-Hill Macmillan/McGraw-Hill McGraw-Hill/Irwin McGraw-Hill Contemporary McGraw-Hill Digital Learning McGraw-Hill Professional Development SRA/McGraw-Hill Wright Group/McGraw-Hill McGraw-Hill Higher Education McGraw-Hill Custom Publishing McGraw-Hill Professional Open University Press McGraw-Hill Education is also established in Asia, Australia, Europe, Latin America (as McGraw-Hill Interamericana), Canada (as McGraw-Hill/Ryerson) and India (as Tata/McGraw-Hill). This division, Standard & Poor's, provides independent investment research including ratings on various investment instruments, as well as various indices that gauge financial markets, such as the widely tracked S&P 500. Information and media Platts Aviation Week Group McGraw-Hill Broadcasting (all ABC affiliates, unless specified) KMGH-TV, Denver, Colorado KZCO-LP and KZFC-LP (Azteca América), Denver, Colorado KZCS-LP (Azteca América), Colorado Springs, Colorado KGTV, San Diego, California Since 2006, McGraw-Hill Broadcasting has been engaged in a union-busting campaign at KGTV, according to internal McGraw-Hill documents provided by NABET-CWA Local 54 on its website. KZSD-LP (Azteca América), San Diego, California KERO-TV, Bakersfield, California KZKC-LP (Azteca América), Bakersfield, California WRTV, Indianapolis, Indiana J.D. Power and Associates McGraw-Hill Construction, a division of the McGraw-Hill companies, is a publisher of construction information in the United States and Canada. It publishes Architectural Record, Dodge, Engineering News-Record (ENR), Sweets, McGraw-Hill Construction Analytics, and McGraw-Hill Construction Regionals. Presidents of the company James H. McGraw (1917 1928) Johnathan Heflin (1928 1948) James McGraw, Jr. (1948 1950) Curtis W. McGraw (1950 1953) Donald C. McGraw (1953 1968) Shelton Fisher (1968 1974) Harold McGraw, Jr. (1974 1983) Joseph Dionne (1983 1998) Harold W. McGraw III (1998 present) During the course of its history The McGraw-Hill Companies has expanded significantly through acquisitions, not just within the publishing industry but also into other areas such as financial services (the purchase of Standard & Poor's in 1966) and broadcasting (the 1972 acquisition of Time-Life Broadcasting). Date of Acquisition Asset Acquired Industry 1920 Newton Falls Paper Company 1928 A.W. Shaw Company 1950s Gregg Company Publisher of vocational textbooks 1953 Companies of Warren C Platts, including Platts Publisher of petroleum industry information 1961 F.W. Dodge Corporation Publisher of construction industry information 1965 California Test Bureau Developer of educational testing systems 1966 Standard & Poor's Financial Services 1968 National Radio Institute Correspondence School 1970 The Ryerson Press Educational and trade publishing 1972 Television Stations of Time Life Broadcasting Broadcasting 1996 Times Mirror Higher Education[ Educational publishing 1997 Micropal Group Limited Financial Services 1999 Appleton & Lange Publisher of medical information 2000 Tribune Education, including NTC/Contemporary Publisher of supplementary educational materials 2002 Open University Press University press - academic publications 2005 J.D. Power & Associates Marketing information provider Note that this list only includes acquisitions made by McGraw-Hill, not its subsidiaries. McGraw-Hill typically does not release financial information regarding its acquisitions or divestitures. History from Wikipedia and
OldCompany.com
(old stock certificate research service).