Beautiful certificate from the Mexican Coffee Trading and Planting Company of New York issued in 1896. This historic document was printed by Gast Company and has an ornate border around it with a vignette of two elegant ladies. This item has the signatures of the Company's President and Secretary and is over 112 years old.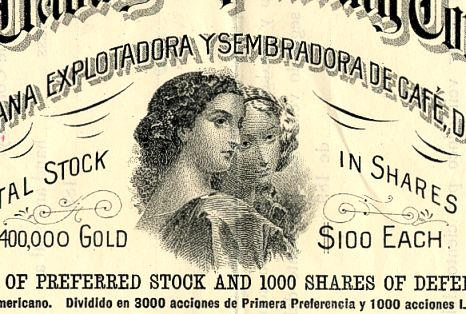 Certificate Vignette
The Mexican Coffee Trading and Planting Co. of New York was incorporated December 5, 1895, with its headquarters in St. Louis. The purpose of the company was to sell on commission and export coffee, woods, fruit and other agricultural products from Mexico to the United States and other countries. The company owned a coffee and rubber plantation, Amate Plantation, in Mexico. History from the Amate Plantation Records, Missouri Historical Society, St. Louis and OldCompany.com.