Beautifully engraved stock certificate stamped specimen from the Mohawk Data Sciences Corp. printed in the 1970's. This historic document was printed by the Security Columbian Banknote Company and has an ornate border a vignette of woman on two globes with an old disk drive in the background.. This item has the printed signatures of the Company's President and Secretary.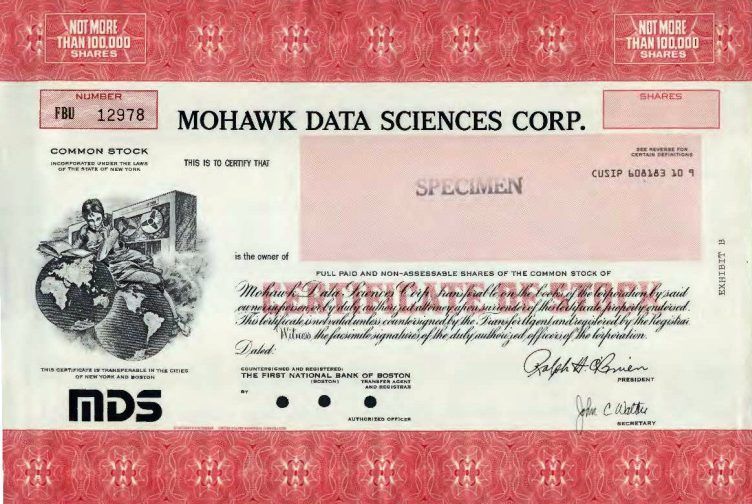 Certificate Vignette
The company was founded in Herkimer, NY by George Cogar, Lauren King, and Ted Robinson, former Univac employees. Their success in selling their first product, a Key-to-Tape Data Entry device that allowed doing away with Keypunch devices, brought them enough cash to also grow via acquisition. Among their acquisitions was the developer of a minicomputer, Atrion 501. From the know-how acquired and absorbed, Mohawk expanded into the areas of controlling line printers and also Remote Job Entry (RJE). This was the basis of their MDS 2400 RJE product which supported 2780 and HASP. Financial difficulties a decade-and-a-half after the company opened led to the company's restructuring, renaming and eventual takeover. By that time, headquarters had been in Parsippany, NJ, with manufacturing in Herkimer, NY. Other Mohawk-branded RJE products Mohawk's 1103 Data Transmission System Mohawk's Series 21, which also had local processing capability. It ran CP/M and supported COBOL MOBOL, their own variation office automation Mohawk had acquired a company named Qantel in 1980, later called "its strongest asset.". Having sold around 10,000 systems worldwide, in the sports world it was known as the supplier for the computer hardware and software for "12 of the 28 teams in the National Football Leaque." Mohawk renamed itself Qantel in 1988, and in 1992 the remains of the latter, after bankruptcy, was acquired by Decision Data corporation. History from Wikipedia and
OldCompany.com
(old stock certificate research service)
About Specimen Certificates
Specimen Certificates are actual certificates that have never been issued. They were usually kept by the printers in their permanent archives as their only example of a particular certificate. Sometimes you will see a hand stamp on the certificate that says "Do not remove from file". Specimens were also used to show prospective clients different types of certificate designs that were available. Specimen certificates are usually much scarcer than issued certificates. In fact, many times they are the only way to get a certificate for a particular company because the issued certificates were redeemed and destroyed. In a few instances, Specimen certificates were made for a company but were never used because a different design was chosen by the company. These certificates are normally stamped "Specimen" or they have small holes spelling the word specimen. Most of the time they don't have a serial number, or they have a serial number of 00000.