Beautiful check from the Mohawk Valley Bank issued in 1848. This historic document was printed by the Narine and Co. and has an ornate border around it with a vignette of George Washington. This item is hand signed by the Francis E. Spinner and is over 168 years old. Cut cancelled.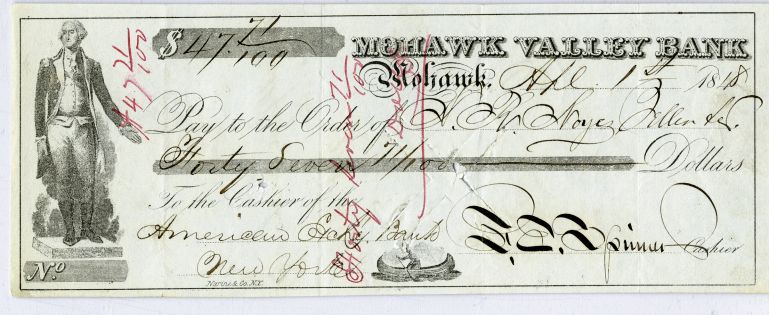 Francis E. Spinner signed check
Francis Elias Spinner (1802-1890), U. S. Representative, Treasurer of the United States, was born in German Flats, New York, and attended schools in Mohawk Valley, N. Y. About 1820 he married Caroline Caswell, and they had five children. Spinner was cashier, then president, of a bank in Mohawk Valley. He entered politics as a deputy sheriff. In 1834 he became a major general in the New York state militia. From 1845 to 1849 he was auditor of the port of New York. From 1855 to 1861 Spinner served three terms in the U. S. House of Representatives, the first term as an anti-slavery Democrat, the others as a Republican. In 1861 Treasury Secretary Salmon P. Chase appointed Spinner Treasurer of the United States. In this office, he made his mark by his elaborate signature and by being responsible for employing women in the civil service, to replace young men who had gone into uniform. He was Treasurer of the United States from 03/16/1861 through 06/30/1875 In 1861, with the impending secession crisis near, much of the United States gold, silver and even copper coinage began to disappear. There was a tremendous amount of hoarding occurring as well as the outright melting down of coins. The intrinsic value of the precious metal found in the coins exceeded the face value of the coins themselves. This event occurs when 1) you have a high percentage of precious metal in coins, as the U.S. did in 1861 and 2) there is a high level of inflation present in the economy. Originally the shortage was mostly created by the hoarding effect which comes about due to fear and uncertainty. Eventually, during the Civil War, there were extreme levels of inflation, in both the North and the South. This was mainly due to the large amount of paper money issued to finance the war efforts, and eventually led to too much money chasing too few goods INFLATION. At this point precious metals became dear and coins were melted. The U.S. Treasury took notice of these strains near the beginning of the crisis. The U.S. Treasurer, General Francis E. Spinner, realized the coin shortage was causing considerable strain on businesses, and the various stopgap solutions being employed in the marketplace were not satisfactory. Merchants issued scrip, tokens, and eventually postage envelopes and encased postage stamps. Nothing was standard and nothing was government sanctioned so confusion ran rampant. U.S. postage stamps were widely recognized and became a real medium of exchange because they were government issued and had an intrinsic value you could always mail a letter with one. The problem with stamps was two-fold: 1) the adhesive gum on the back would turn one's change into a gummy mess after a spell in you pocket, and 2) the U.S. Post Office was not prepared to take on the responsibility of "acting" U.S. Treasury. Secretary of Treasury Salmon Chase proposed that the government would reduce the size of silver coins, and officially sanction the use of postage stamps as currency. President Lincoln signed this into law on July 17, 1862. There was an immediate run on stamps and this was when U.S. Treasurer Spinner proposed the larger size non-adhesive postage currency note. He actually pasted some stamps on small pieces of cardboard with the motto of the Treasury of the United States on them, and thus presented his first mock up of postage currency to Chase for approval. The concept was accepted and the first issue of U.S. Postage Currency followed in 5, 10, 25, and 50 cent denominations. In all, there were five series of United States Fractional Currency, as it later became known, to follow. Additional denominations of 3 and 15 cents were added. It is interesting to observe the adaptive nature of man in action during a crisis, and the origins of this collecting pastime was just that. UNCLE SAM'S FIRST FEMALE EMPLOYEES The U.S. government hired large numbers of women in the 1860s. Many women worked cutting paper bills in the Treasury Department. The Treasury Secretary General Francis E. Spinner stated that "A woman can use scissors better than a man and she will do it cheaper."