Beautiful certificate from the Moon-Anchor Copper Mining Company issued in 1902. This historic document was printed by GOES and has an ornate border around it with a vignette of a valley. This item has been hand signed by the Company's President, L. W. Tennant and Secretary, William J. Wernli and is over 109 years old.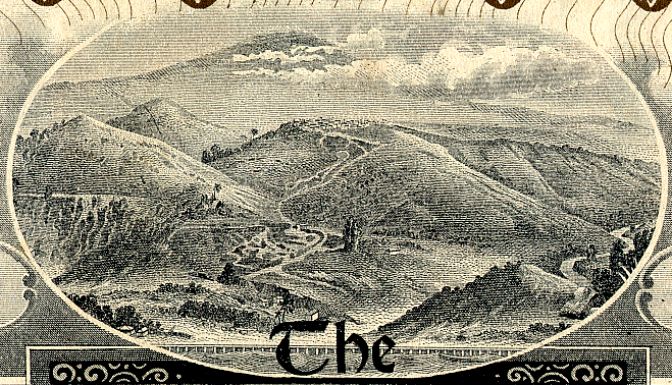 Certificate Vignette
Mines Regiuster - 1906 MOON-ANCHOR COPPER MINING CO. WYOMING. Office and mine: Encampment, Carbon Co., Wyo. L. W. Tennant, president and general manager; W. J. Wernli, secretary and treasurer. Organized 1901, under laws of Wyoming, with capitalization $1,000,000, shares $1 par. Lands, 3 claims, area 60 acres, on Green Mountain, in the Upper Platte district, said to show a 50' fissure vein of sulphide ore, giving assays up to 10% copper, developed by a 200' shaft. Has steam power. Progressive men of the state of Wyoming- 1901 WILLIAM J. WERNLI. One of the leading business men and property owners of the new town of Encampment, Wyoming, William J. Wernli, is also a pioneer of that enterprising place. He is a native of Wisconsin, born in the city of Oshkosh, on January 5, 1856, the son of Jacob and Anna Maria (Steiner) Wernli, both natives of Switzerland. The father came to America in 1855, and established his home in Oshkosh, where he continued to reside for a number of years, and then removed his residence to Waupaca. Here he became the capable principal of the city schools, and later being elected the county superintendent of Waupaca county. He made his home at that place for about five years and then he removed to Milwaukee, and there held the position of the principal of the public schools of the second ward of that city for two years, thereafter removing his family to Platteville, Wis., where he was elected as assistant principal of the first state normal school which was located at that place. He continued here for two years and then went to Galena, Ill., where he founded the Northwestern Normal College, of which he was the principal and manager for five years. He then disposed of his Galena property and made his home in Chicago, Ill., where he retired from professional labors and successfully engaged in the wholesale and retail book and stationery business for two years. He then sold his business to advantage, and went to Lemars, Iowa, where he purchased a section of land and engaged in agricultural pursuits until his death in 1901. During a portion of his residence here he was principal of the city schools and also the county superintendent of public instruction. Being a man of wide information and of high standing as an educator, his services were in constant demand as a lecturer before teachers' institutes. He was highly esteemed by all classes of his fellow citizens, and was deeply mourned by a large circle of friends and relatives. He had been twice married, and left a family of thirteen children. William J. Wernli was the eldest child of the family and attained to manhood in his native state of Wisconsin and in Illinois and Iowa and receiving his education in the schools of those states remaining at home until 1879. when he became the secretary and chief bookkeeper of the Plymouth Roller Mill Co., at Lemars, Iowa. He remained in this position for ten years, then removed to Rapid City, South Dakota, and engaged in a prosperous business as a grain and produce dealer for two years, and then returned to Lemars, where he embarked in the sale of farm implements, later disposing of that business and removing to Correctionville, Iowa, after residing at Lemars for some three years, he engaged in the milling business. He was burned out one year later and lost everything. Again returning to Lemars, he engaged in real-estate and insurance until 1898, when he removed to the vicinity of Encampment, Wyo., and there occupied himself in prospecting and mining for about two years, passing through some very trying experiences and on one occasion he and his family came near perishing in a severe storm which suddenly overtook them in the mountains. In 1900, he purchased the Eairchild stock of hardware at Doggett, Wyo., and removed it to Encampment, where he erected a small building and engaged in a small way in the hardware trade. By hard work, perseverance and business enterprise he has gradually built up an excellent trade and has extended his operations until he is now the owner of one of the largest mercantile establishments in his section of the state. Originally his store building was only sixteen feet square, and he resided with his family in small apartments at the rear of his store. Now he occupies a fine store building, devoting twenty-four feet by seventy to his hardware department, and forty-eight by sixteen to his drygoods department, the second story being occupied by the Masonic order as a lodge room. He carries a large stock of merchandise, has a constantly increasing patronage and is one of the substantial merchants of his section. He is also the owner of large warehouses in connection with his mercantile business. He attributes very much of his success to his wife, who by her advice, counsel and assistance has materially aided him in all of his plans and undertakings and has been most loyally a helpmeet in the fullest sense of the word. In November, 1879. Mr. Wernli wedded with Miss Belle M. Stough, a native of Iowa and a daughter of Calvin P. Stough, a prominent business man, who was long engaged in the furniture business in Lemars, and was a leading factor in the commercial life of his city and county. Now retired from active business pursuits he is residing at Galena, Kan. To Mr. and Mrs. Wernli have been born two children, Winnie B., wife of G. E. Heber, of Imperial, Calif., and Laura M. Fraternally, Mr. Wernli is affiliated with the Freemasons as a member of the chapter at Encampment. He takes an active part in local political affairs and is the city treasurer of Encampment. Besides his other business enterprises, he is largely interested in mining, being the secretary of the Moon Anchor Copper Mining Co., and of the Rambler Mining Co., both of which give promise of being valuable properties. He is one of the foremost men of his county and is progressive and prominent in all measures calculated to benefit the city of his residence, or to develop the resources of the surrounding country.