Beautifully engraved RARE specimen certificate from MPath Interactive, Inc. printed in 1999. This historic document was printed by the American Banknote Company and has an ornate border around it with a vignette of an the company name and logo. This item has the printed signatures of the Company's President, and Treasurer.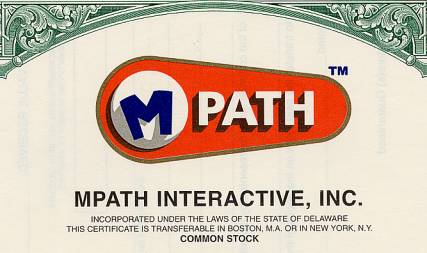 Certificate Vignette
Mpath Interactive started up in early 1995 based in Cupertino, California, and was later renamed to HearMe. MPath Interactive later moved to Mountain View, California, after acquiring Catapult Entertainment, Inc., and their online gaming service XBAND. MPlayer began as a division in October 1996 to provide online gaming to subscribed users. A few months prior to launching MPlayer, MPath announced their goal for the service in a job description: Not only will people go to the Internet for information, they will also go to it to meet and interact with other people. Mplayer, scheduled to debut 1996, will bring the excitement of real-time multi-player gaming to the Internet's World Wide Web for the first time. It will feature popular PC-based games from well-known game publishers. Mplayer's features will include voice-capable games and chat rooms where players can converse as they play the games, watch games in progress and choose teams or opponents. In February 1997, they began to offer internet play for free for their major commercial games such as Quake, as well as card and board games such as Scrabble and Spades. In this, they were one of the first major commercial communities on the internet to offer such a service. They continued to add many new games to their offering. The slogan that was used from its founding was "Wanna Play?" By the end of 1998, the company had a staff of 111 employees, and about 80 by late 2000. The company was listed on NASDAQ beginning April 29, 1999 as MPTH, which changed to HEAR by late September of the same year. History from Wikipedia and
OldCompany.com
(old stock certificate research service.
---
About Specimen Certificates
Specimen Certificates are actual certificates that have never been issued. They were usually kept by the printers in their permanent archives as their only example of a particular certificate. Sometimes you will see a hand stamp on the certificate that says "Do not remove from file". Specimens were also used to show prospective clients different types of certificate designs that were available. Specimen certificates are usually much scarcer than issued certificates. In fact, many times they are the only way to get a certificate for a particular company because the issued certificates were redeemed and destroyed. In a few instances, Specimen certificates were made for a company but were never used because a different design was chosen by the company. These certificates are normally stamped "Specimen" or they have small holes spelling the word specimen. Most of the time they don't have a serial number, or they have a serial number of 00000. This is an exciting sector of the hobby that has grown in popularity over the past several years.