Beautifully engraved certificate from the NCR Corporation p[rinted in 1976. This historic document was printed by the American Banknote Company and has an ornate border around it with a vignette of an allegorical woman between two globes. This item has the printed signatures of the Company's President and Secretary.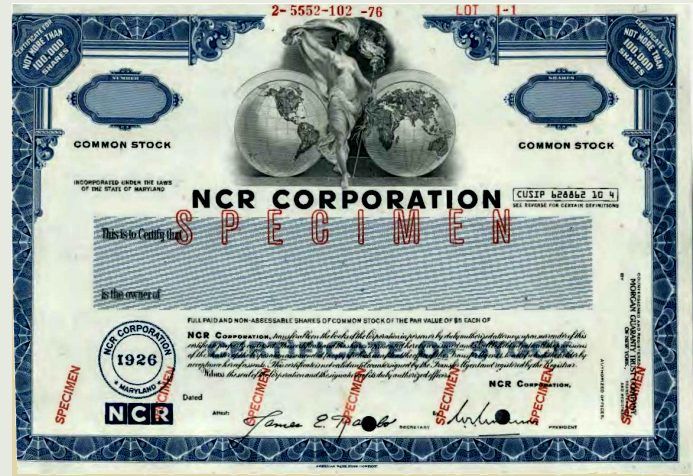 Certificate
NCR History Timeline 1884 - John H. Patterson founded the National Cash Register Company, maker of the first mechanical cash registers. 1906 - Charles F. Kettering designed the first cash register powered by an electric motor. 1952 - NCR acquired Computer Research Corporation (CRC), of Hawthorne, California, which produced a line of digital computers with applications in aviation. 1953 - NCR established the Electronics Division to continue to pursue electronic applications for business machines. 1974 - Company changed its name to NCR Corporation. 1982 - The First NCR Tower supermicrocomputer system was launched, establishing NCR as a pioneer in bringing industry standards and open systems architecture to the computer market. 1991 - NCR acquired by AT&T. 1991 - NCR purchased Teradata Corporation, acquiring its advanced and unique commercial parallel processing technology. NCR Teradata becomes the world's most proven and powerful database for data warehousing. 1994 - NCR name changed to AT&T Global Information Solutions (GIS). 1995 - Lars Nyberg appointed chairman and CEO of AT&T GIS. 1995 - AT&T announced spin-off of AT&T GIS by the end of 1996. 1996 - AT&T GIS changed its name back to NCR Corporation in anticipation of being spun-off to AT&T shareholders by January 1997, as an independent, publicly-traded company. 1997 - Signaling its evolution from a hardware-only company to a full solutions provider, NCR purchased Compris Technologies, Inc., a leading provider of store automation and management software for the food-service industry, and Dataworks, a company that develops check-processing software. 1998 - NCR finalized the transfer and sale of their computer hardware manufacturing assets to Solectron, confirming NCR's commitment to concentrate on the market-differentiated software and services components of their solutions portfolios. 1998 - NCR sold its TOP END middleware software to BEA Systems in a move to expand NCR's application software offerings while moving away from horizontal general purpose computer software. 1998 - NCR purchased 50 percent of Stirling Douglas Group, Inc. (SDG), a privately-held software firm and leading provider of merchandise management applications. 2000 - Leading e-businesses such as Travelocity.com, E*Trade and Microstrategy implemented NCR's Teradata warehouse solutions as the foundation of their sophisticated customer-focused offerings and marketing initiatives. History from Wikipedia and
OldCompany.com
(old stock certificate research service)
About Specimen Certificates
Specimen Certificates are actual certificates that have never been issued. They were usually kept by the printers in their permanent archives as their only example of a particular certificate. Sometimes you will see a hand stamp on the certificate that says "Do not remove from file". Specimens were also used to show prospective clients different types of certificate designs that were available. Specimen certificates are usually much scarcer than issued certificates. In fact, many times they are the only way to get a certificate for a particular company because the issued certificates were redeemed and destroyed. In a few instances, Specimen certificates were made for a company but were never used because a different design was chosen by the company. These certificates are normally stamped "Specimen" or they have small holes spelling the word specimen. Most of the time they don't have a serial number, or they have a serial number of 00000.