Beautifully engraved $1000 Gold Bond Certificate from the New England Telephone and Telegraph Co. (Famous Telephone Operator Vignette) issued in 1926. This historic document was printed by the American Banknote Company and has an ornate border around it with a vignette of an early telephone operator holding telephone wires connecting to different cities. This item has the signatures of the Company's officers and is over 94 years old. Punched cancelled.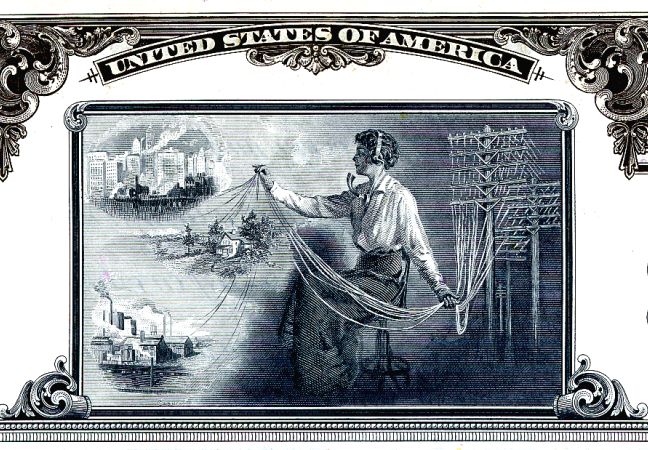 Certificate Vignette
The New England Telephone and Telegraph Company, more commonly known as New England Telephone, was a Bell Operating Company that served most of New England as a part of the original AT&T for seven decades, from the creation of the national monopoly in 1907 until January 1, 1984, when AT&T was divested of its local operating companies. It became part of NYNEX on that date, and from 1994 the name was no longer officially publicly used (although it was still used internally for portions of operations). Through a variety of mergers and acquisitions its operations were successively part of NYNEX, Bell Atlantic, and Verizon. As of April 1, 2008, its operations in the three northern New England states were sold to FairPoint Communications under the operation of Northern New England Telephone Operations. Operations in southern New England remain with Verizon. The headquarters of New England Telephone was located at 185 Franklin Street in the Post Office Square area of Boston's Financial District. As of 2009, the building is still used by Verizon Communications, but it has been sold. Its slogan and jingle was "We're the one for you, New England. New England Telephone." Despite the similarity of names, the company has no connection to an earlier New England Telephone and Telegraph Company, a short-lived company that dissolved in 1879, although at least through 1965 the legal business name of New England Telephone was The New England Telephone and Telegraph Company. It also had no connection to Southern New England Telephone (SNET) which covered Connecticut and small parts of New York. (Verizon has operations in a small part of Connecticut, but that is considered part of New York Telephone.) History from
StockResearch.pro
(Professional Old Stock Certificate Research Service).