Beautiful certificate from the New State Mining and Milling Company issued in 1896. This historic document was printed by the Utah Litho. Company and has an ornate border around it with a vignette of miners. This item has the original signatures of the Company's President, James Veitch and Secretary, Robert C Gemmell and is over 116 years old. Folds and some wear on edges.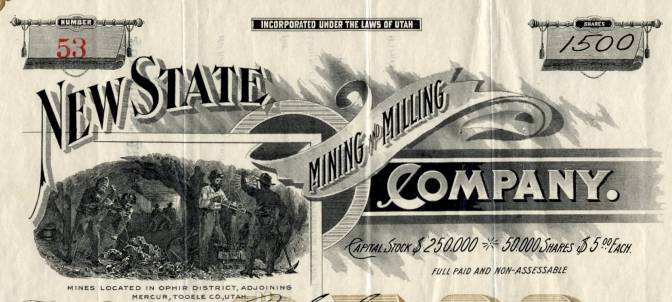 Certificate Vignette
The Salt Lake Herald. (Salt Lake City) January 16, 1896, The New State Mining and Milling company filed articles of incorpora tion yesterday with a capital stock of 250000 divided into shares of 5 each James Veitch John A Bard Harry C Beckett Fred Simon J H Whalon and Robert C Gemmell are the in corporators who with the exception of Harry C Beckett constitute the board of directors while James Veitch is president J H Whalon vice president Fred Simon treasurer and Robert C Gemmell secretary The company owns the mining claims known as the Gold Spar the New State the Ophir and the Hamiton lodes district all situated in the Ophir Mining District.