Beautifully engraved Certificate from the famous The New York and Harlem Rail Road Company issued no later than 1945. This historic document was printed by the American Banknote Company and has an ornate border around it with a vignettes of an old train, sailor, blacksmith and a dog. This item is hand signed and is over 64 years old.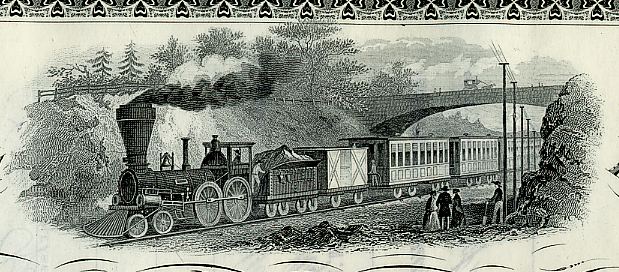 Certificate Vignette
The New York and Harlem Railroad (now the Metro-North Railroad Harlem Line) was one of the first railroads in the United States, and possibly the first street railway, running north from Lower Manhattan to and beyond Harlem. The line was later truncated at Grand Central Terminal, with the rest that extended south becoming part of the Fourth Avenue Horse Car Line. The line became part of the New York Central Railroad system, with trackage rights granted to the New York, New Haven and Hartford Railroad into Manhattan. It is now part of the Metro-North Railroad system, and the only Manhattan trackage of that system. Incorporated April 25, 1831; road opened May 10, 1852; corporate existence extended five hundred years from April 16, 1889. The steam portion of this company's road, running from Forty-second street, New York City, to Chatham, was leased April 1, 1873 (lease to expire April 1, 2274), to The New York Central and Hudson River Railroad Company, the annual rental being interest on its funded debt and eight per cent on its capital stock.