Beautiful unissued certificate from the Newmarket & Sperryville Turnpike Company . The company was incorporated in 1848. This historic document was printed by Hawdon, Wright, Hatch & Edson, New York and has a border around it with a vignette of George and Martha Washington. This item is over 165 years old.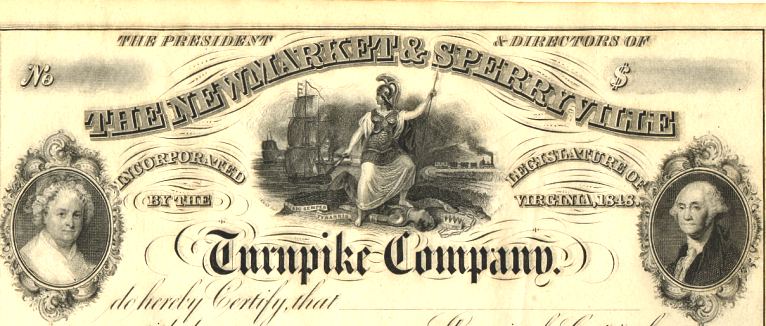 Certificate Vignette
From Luray, the New Market and Sperryville Turnpike (US 211 east) crossed Thornton's Gap to Sperryville, where roads branched northeast to Warrenton and southeast to Culpeper Courthouse. Heading west from Luray, the turnpike crossed Massanutten Mountain to New Market, from where it continued (VA 211 and 259) to Brock's Gap in Little North Mountain. The Luray Road (US 340) continued south to Waynesboro via Shenandoah, Elkton, and Port Republic.