Beautifully engraved specimen certificate from Nextel Communication, Inc. This historic document was printed by the Security - Columbian Company and has an ornate border around it with a vignette of the Nextel Company logo. This item has the printed signatures of the Company's President, Tim Donahue and Secretary,.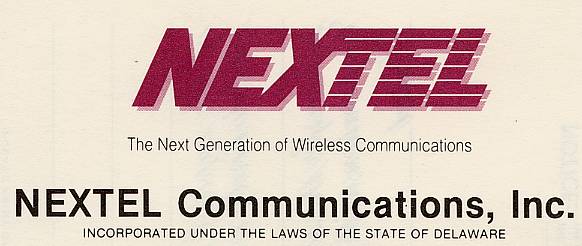 Certificate Vignette
Sprint (NYSE: FON) and Nextel Communications Inc. (NASDAQ: NXTL) announced that they have completed their merger transaction, forming Sprint Nextel Corporation. Sprint Nextel common stock will begin trading on the New York Stock Exchange Monday, Aug. 15, 2005, under the symbol "S." Gary Forsee, chief executive officer and president of Sprint Nextel (at the time), said, "This is a great day for our investors, customers, employees and partners. Through a broad portfolio of product and service offerings and a passion for meeting the needs of our customers, Sprint Nextel expects to win in the market. As we look to the future, Sprint Nextel will provide customers innovative wireless data services with media and entertainment content augmented by a global IP network that provides consumer, business and government customers compelling integrated communications solutions." Tim Donahue, executive chairman of Sprint Nextel, commented, "Communication is changing, and we are not only ready for it, we will lead it. In solid, tangible, measurable ways Sprint Nextel will put points on the scoreboard as we drive growth and profitability in a wireless world. The leadership team has worked tirelessly over the past several months to position the combined company for a seamless integration and Sprint Nextel is ready to hit the ground running to deliver on its promise to all of its customers."
---
About Specimen Certificates
Specimen Certificates are actual certificates that have never been issued. They were usually kept by the printers in their permanent archives as their only example of a particular certificate. Sometimes you will see a hand stamp on the certificate that says "Do not remove from file". Specimens were also used to show prospective clients different types of certificate designs that were available. Specimen certificates are usually much scarcer than issued certificates. In fact, many times they are the only way to get a certificate for a particular company because the issued certificates were redeemed and destroyed. In a few instances, Specimen certificates were made for a company but were never used because a different design was chosen by the company. These certificates are normally stamped "Specimen" or they have small holes spelling the word specimen. Most of the time they don't have a serial number, or they have a serial number of 00000. This is an exciting sector of the hobby that has grown in popularity over the past several years.