Beautiful engraved specimen certificate from the National Discount Brokers Group, Inc dated in 1998. This historic document was printed by American Bank Note Company and has an ornate border around it with a vignette of an allegorical woman holding a torch next to a portfolio of stock certificates. This item has the printed signatures of the Company's President and Secretary and is over 18 years old.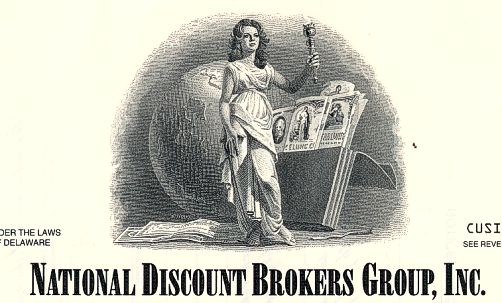 Certificate Vignette
Company History: National Discount Brokers Group, Inc. was a holding company for National Discount Brokers, a discount broker mainly serving individual investors, and Sherwood Securities, a wholesale market maker specializing in NASDAQ and small-cap over-the-counter stocks. The company also had a controlling interest in Equitrade Partners, a wholesale market maker specializing in New York Stock Exchange securities. (Market makers have an effective monopoly in the trading of certain stocks. In return for this monopoly, they have the obligation to maintain an orderly market and dampen price volatility in the stock by selling when the public is buying and buying when the public is selling.) Wholesale Dealer Until 1987 Sherwood Securities was founded in 1968 by Richard Marino and Charles Sheils, with Marino's brother Dennis joining the firm the following year. It was incorporated in 1981 as The Sherwood Equity Group Ltd. and changed its name in 1983 to Sherwood Capital Group, Inc. In fiscal 1985 (the year ended May 31, 1985), Sherwood Capital Group registered a net loss of nearly $1.7 million on revenue of $13.7 million; the following year revenue grew to $28.7 million, and the company had net income of $3.1 million. Assets came to $39.3 million. Headquarters were in New York City. Sherwood Capital Group's broker-dealer unit, Sherwood Securities Corporation, was a major market maker in over-the-counter stocks by 1987, when it was trading in about 2,600 securities. As a market maker, Sherwood Securities acted as a wholesale dealer in the execution of transactions. It was acting as principal in transactions through buying, selling, and maintaining an inventory in the securities in which it was making a market. About 1,800 of the securities in which Sherwood Securities was a market maker were being displayed in the electronic quotation medium referred to by the acronym NASDAQ. The firms that had elected to make a market in a security quoted on NASDAQ displayed the price at which they were willing to buy (bid) or sell (ask) these securities. The market maker adjusted its bid and asked prices in response to supply, demand, and other factors affecting the market for each security. Private telephone lines connected the Sherwood Securities trading operations to the order-entry departments of about 275 brokerage firms and institutional customers. Sherwood was a leader in automated trading, which in 1987 accounted for more than half of its total volume. The company also was executing over-the-counter transactions for retail brokers, including certain clearing accounts. Most notable of these firms was Quick & Reilly, Inc., which accounted for 14.5 percent of all orders executed by Sherwood Securities in fiscal 1987. Troubled Retail Acquisition and Aftermath: 1987-90 Sherwood Capital Group was seeking to become a retail broker in 1986, and shortly before the end of the year it paid $19 million to buy 33 retail brokerage offices from First Jersey Securities Inc. with a total annual revenue of around $70 million. The new unit was named Sherwood Capital Inc. and placed under Frederic Rittereiser, former chief executive officer of First Jersey. First Jersey Securities had acquired, according to Business Week, the Wall Street Journal, and other sources, an unsavory reputation for stimulating trades in the small over-the-counter companies whose shares it underwrote by such alleged means as having one branch urge the sale of a stock while another recommended buying it. When Sherwood Capital Group went public in May 1987 as Sherwood Group, Inc., the hundreds of First Jersey brokers who had moved over to Sherwood quietly sold about $60 million of stock for about 54 percent of the shares outstanding. The offering was made available only to Sherwood's 300,000 customers, many of them former First Jersey clients. Sherwood officers and directors retained about 21 percent of the shares. The acquisition of First Jersey's brokerage network proved a disaster for Sherwood Group when the stock market crashed in the fall of 1987. The network was sold in May 1988 at a loss of $19.7 million, with 15 offices purchased by Hibbard Brown & Co., 11 by F.N. Wolf & Co., and six by J.T. Moran & Co. The company also ceased underwriting securities, which had accounted for seven percent of its revenues in fiscal 1988. Sherwood Group lost $40.1 million in fiscal 1988 on gross operating revenues of $48.5 million. It lost another $10.4 million the next year on revenues of only $13.1 million and $8.4 million in fiscal 1990 on revenues of $15 million. In all, Sherwood lost about $60 million because of the First Jersey debacle. Sherwood Group received some help in September 1988, when S.G.I. Partners, L.P., paid $2.7 million for about 15 percent of the company. The purchase price, however, was only a little more than $1 a share, compared to the $8.50 a share of the initial public offering the previous year. This partnership was said to be controlled by Arthur Kontos, managing director of the securities firm Spear, Leeds & Kellogg, the largest specialist (market making) firm on the New York Stock Exchange and also operator of an over-the-counter market-making unit competing with Sherwood Securities. Kontos became president and chief executive officer of Sherwood Group, while James Lynch, Jr., also a Spear, Leeds & Kellogg partner, became chairman. Wholesale and Retail in the 1990s In 1989 Sherwood Group purchased a 60 percent interest in Equitrade Partners, a specialist market maker on the New York Stock Exchange, for $3.6 million. S.G.I. continued to raise its stake in Sherwood Group, to nearly 40 percent in 1991 and more than 58 percent in 1992. When Sherwood Group earned about $100,000 on revenues of $21.7 million in fiscal 1991, it began six consecutive years of increased sales and profit. It was the only company making a market in NASDAQ International stocks for the overnight trading sessions initiated to coincide with trading in London. In 1993 Sherwood Group acquired Triak Services Corporation, a start-up brokerage that by the end of 1994 was making markets in 29 American Stock Exchange stocks. Sherwood Securities added an institutional research department for NASDAQ and small-cap over-the-counter securities in 1991. S.G.I. Partners, according to a 1994 Investment Dealers' Digest article, was really controlled by Peter Kellogg, senior managing director of Spear, Leeds & Kellogg. The IDD article called Kellogg "the most powerful and feared man on Wall Street" and went on to claim that Kellogg held "a stake in every means by which shares and options trade on nearly every major exchange in the US." Kellogg also personally held about a million shares of Sherwood stock, or about eight percent of the shares outstanding. Spear, Leeds & Kellogg was careful, however, to avoid formal authority over Sherwood. In January 1994 a start-up firm called National Discount Brokers started advertising a flat fee of $25 for over-the-counter trades of up to 20,000 shares. Rival discount brokerages gradually learned that NDB was an operating arm of Triak. Although they were said to have "erupted in fury" and begun shifting some business away from Sherwood Securities in retaliation, according to Kontos "Sherwood Securities didn't lose one customer because of National Brokers." According to IDD, Troster Singer Co., Spear, Leeds & Kellogg's over-the-counter market-making operation, was expressly forbidden to seek any business lost by Sherwood Securities. National Discount Brokers also became the first major discount broker to sell stock over the Internet, in 1995. Sherwood Group's revenues nearly doubled in fiscal 1996, reaching $180.2 million, while its net income rose to $20.1 million. The next two years were not as good. Revenues barely rose in fiscal 1997, to $181.1 million, and net income fell to $9.3 million. That year the company paid $9.2 million as its share of the settlement of a class-action lawsuit in which investors claimed that more than 30 of NASDAQ's market makers conspired to keep overly wide the spread between the prices at which they bought and sold 1,659 NASDAQ stocks. The company also was fined $1 million by the U.S. Securities and Exchange Commission in January 1999 in connection with alleged trading abuses. Sherwood Group moved its head office and trading facilities to Jersey City in 1995 and its sales office to another downtown Manhattan location in 1996. In the latter year National Discount Breakers initiated a "supermarket" of no-load mutual funds that allowed consumers to choose for purchase from over 260 funds through a single provider without paying a fee, even when purchasing funds from different companies. In 1998, when NDB's standard trading fee was $14, it formed an alliance with Women's Connection Online, providing custom-made educational pages to the site and paying a fee in exchange for the service's online link to its own trading site. Sherwood Group changed its name to National Discount Brokers Group, Inc. in December 1997. Although the firm's net income rose to $11.9 million in fiscal 1998, revenues fell to $164.5 million because of competition from better-financed rivals. By this time NDB no longer was one of the top ten Internet brokers and, in the words of one reporter, risked becoming "a niche player in an industry it helped to create." National Discount Brokers' strategy in 1998 was to find new clients among the nine million people expected to begin investing online for the first time by 2002. The pact with Women's Connection Online was one facet of this plan. Another was a link to blackstocks.com, an Internet site aimed at African American investors. NDB's partnerships were said to account for 5,000 of the 20,000 customers added in 1998. Still another means of recruiting new clients was "NDB University," a new investor-education program the company had begun offering on its web site. Sherwood Group in 1998 Sherwood Securities remained the subsidiary for making markets in NASDAQ and small-cap securities on a wholesale basis. Sherwood Securities was trading in about 3,400 securities in 1998 and also acting as a principal for its own account. It also provided limited retail brokerage services and from time to time was making venture capital investments. It had offices in Boston, Chicago, Denver, Los Angeles, and Minneapolis as well as Jersey City. Triak was doing business as National Discount Brokers, which remained a deep-discount brokerage firm specializing in trade execution for individual investors through interactive voice response and Internet distribution channels. At the end of July 1998, National Discount Brokers had more than 120,000 customer accounts comprising over $5.3 billion in assets. In 1997 Sherwood Group acquired DNY, a company engaged in specialist trading on the New York Stock Exchange, paying $15.3 million in cash to Dresdner Bank AG. The name of the company was subsequently changed to SHD Corporation. At the end of July 1998 National Discount Brokers Group and its SHD subsidiary owned about 72 percent of Equitrade Partners, which was a registered specialist in 157 equity securities on the New York Stock Exchange. Another subsidiary, MXNet Inc., was sold in 1998 to IPC Information Systems Inc. for $6.7 million. Sherwood Group was no longer clearing trades for other retail brokers in 1998. Sherwood Securities was clearing its wholesale market making and customer transactions through Broadcort Capital Corporation. Equitrade was clearing its transactions through Spear, Leeds & Kellogg, and National Discount Brokers was clearing its transactions through the Pershing Division of Donaldson, Lufkin & Jenrette Securities Corporation. In August 1998 S.G.I. Partners, L.P. held 28.5 percent of the common stock of National Discount Brokers Group. Entities responsible to Arthur Kontos held 20.3 percent, and entities responsible to Peter R. Kellogg held 19 percent. Principal Subsidiaries: The Ebercom Company; SHD Corporation; Sherwood Capital, Inc.; Sherwood Management Corporation; Sherwood Newco Corporation; Sherwood Properties Corporation; Sherwood Securities Corporation; Simcon Corporation; Triak Services Corporation; Equitrade Partners (72%). History from Wikipedia, Funding Universe and
OldCompany.com
(old stock certificate research service)
---
About Specimens
Specimen Certificates are actual certificates that have never been issued. They were usually kept by the printers in their permanent archives as their only example of a particular certificate. Sometimes you will see a hand stamp on the certificate that says "Do not remove from file". Specimens were also used to show prospective clients different types of certificate designs that were available. Specimen certificates are usually much scarcer than issued certificates. In fact, many times they are the only way to get a certificate for a particular company because the issued certificates were redeemed and destroyed. In a few instances, Specimen certificates we made for a company but were never used because a different design was chosen by the company. These certificates are normally stamped "Specimen" or they have small holes spelling the word specimen. Most of the time they don't have a serial number, or they have a serial number of 00000. This is an exciting sector of the hobby that grown in popularity over the past several years.