Beautiful certificate from the Oriole Gold Mining Company issued in 1896. This historic document has an ornate border around it with a vignette of flowers and the company name. This item has the signatures of the Company's President, Thos. H. Edsall and Secretary and is over 113 years old.

Certificate Vignette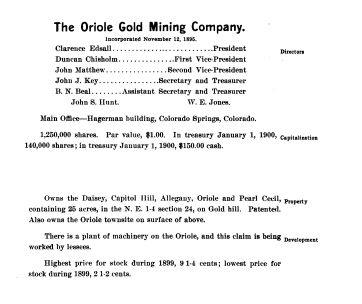 From the Official Manual of the Cripple Creek District 1900
Daisy Capitol Hill, Allegheny and Pearl Cecil claims. Also owned the Oriole townsite.