Beautifully engraved certificate from the Pathe Exchange, Inc. This historic document was printed by the American Banknote Company and has an ornate border around it with a vignette of an eagle. This item has the signatures of the Company's President and Secretary. 21 coupons attached on top.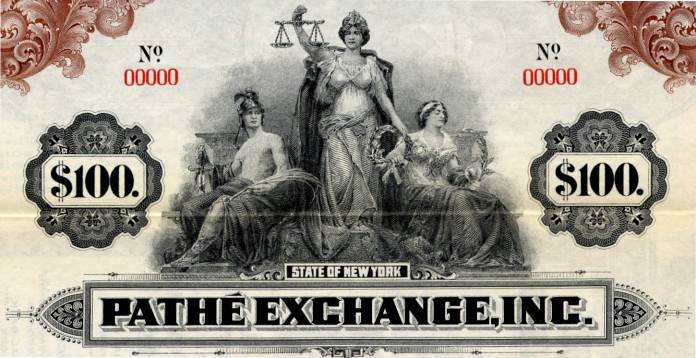 Certificate Vignette
In 1896, Frenchman Charles Pathe founded Pathe Freres (Bros) with his brother Emile. The brothers an improved studio camera and the idea of a vertically integrated system of movie production and distribution, thus beginning the early industrialization of cinema. Early in the century the company devised a stencil system for mechanically coloring film. The Pathe brothers perfected the cinematograph play by utilizing huge studios, immense and elaborate sets, professional actors from the stage, and produced plays thought to be beyond the scope of the picture-producer. They developed a mass distribution system throughout the world. The company began mounting plays of historical significance, which led to producing scenes "on location." Pathe moved its headquarters to the U.S. during WWI. After returning to France, the company eventually met with financial difficulties. Charles retired in 1929. However the Pathe name continued in various incarnations of film companies. Joseph P. Kennedy purchased a large share of Pathe' Exchange in 1929, where he was president and a director. Pathe Exchange Inc. merged with PDC/K-A-O/DeMille to become RKO - Pathe in 1930. History from Wikipedia and
OldCompany.com
(old stock certificate research service)
About Specimen Certificates
Specimen Certificates are actual certificates that have never been issued. They were usually kept by the printers in their permanent archives as their only example of a particular certificate. Sometimes you will see a hand stamp on the certificate that says "Do not remove from file". Specimens were also used to show prospective clients different types of certificate designs that were available. Specimen certificates are usually much scarcer than issued certificates. In fact, many times they are the only way to get a certificate for a particular company because the issued certificates were redeemed and destroyed. In a few instances, Specimen certificates were made for a company but were never used because a different design was chosen by the company. These certificates are normally stamped "Specimen" or they have small holes spelling the word specimen. Most of the time they don't have a serial number, or they have a serial number of 00000. This is an exciting sector of the hobby that has grown in popularity over the past several years.