Beautiful specimen certificate from the Pep Boys - Manny, Moe & Jack printed in the year 2000. This historic document was printed by the Security - Columbian Company and has an ornate border around it with a vignette of an eagle perched gazing over a city. This item has the printed signatures of the Company's President, and Secretary.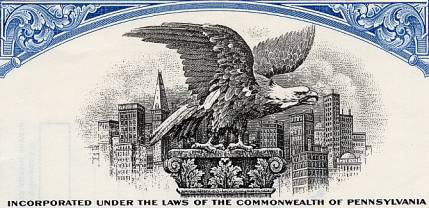 Certificate Vignette
The Pep Boys - Manny, Moe & Jack (NYSE: PBY) is a full-service automotive aftermarket chain. In 1921, Maurice L. (Moe) Strauss, Emanuel (Manny) Rosenfeld and W. Graham (Jack) Jackson opened the first "Pep Auto Supplies" store in Philadelphia, Pennsylvania. They took the original name from a product carried in the store, called "Pep Valve Grinding Compound." A neighborhood cop may have led to the name change "Pep Boys." As the story goes, every time he stopped a car that didn't have an oil wick burning, he would tell the driver to go see "the boys down at Pep." The "Manny, Moe and Jack" portion of the name was added after Manny and Moe visited California and saw a dress shop called "Minnie, Maude and Mabel's." Manny and Moe's visit to California also started a new market for the company. Manny's brother Murray Rosenfeld opened the West Coast operation in 1933 and Pep Boys began to grow on both sides of the country. The company reached about 159 stores around 1986. History from Wikipedia and OldCompanyResearch.com.
---
About Specimen Certificates
Specimen Certificates are actual certificates that have never been issued. They were usually kept by the printers in their permanent archives as their only example of a particular certificate. Sometimes you will see a hand stamp on the certificate that says "Do not remove from file". Specimens were also used to show prospective clients different types of certificate designs that were available. Specimen certificates are usually much scarcer than issued certificates. In fact, many times they are the only way to get a certificate for a particular company because the issued certificates were redeemed and destroyed. In a few instances, Specimen certificates were made for a company but were never used because a different design was chosen by the company. These certificates are normally stamped "Specimen" or they have small holes spelling the word specimen. Most of the time they don't have a serial number, or they have a serial number of 00000. This is an exciting sector of the hobby that has grown in popularity over the past several years.