Beautiful certificate from the Porcupine Gold Mines Company issued in 1911. This historic document was printed by the Broun-Green Company and has an ornate border around it with a vignette of an eagle. This item has the signatures of the Company's Vice President, Charles Dickson and Assistant Treasurer, G. L. Beaton and is over 98 years old.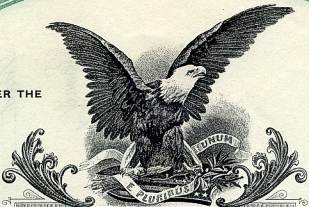 Certificate Vignette
The Porcupine Gold Rush was a gold rush that took place in northern Ontario, Canada starting in 1909 and developing fully by 1911. A combination of the hard rock of the Canadian Shield and the rapid capitalization of mining meant that smaller companies and single-man operations could not effectively mine the area, as opposed to earlier rushes where the gold could be extracted through placer mining techniques. Although a number of prospectors made their fortune, operations in the area are marked largely by the development of larger mining companies, and most people involved in the mining operations were their employees.