Beautifully engraved specimen certificate from the Radio Corporation of America. This historic document was printed by the Security-Columbian Banknote Company and has an ornate border around it with a vignette of an allegorical woman holding a globe, Nipper the Dog looking into an old phonograph horn, a ship, skyscrpaer, space shuttle and the company logo. This item has the printed signatures of the Company's President, Robert W. Sarnoff and Secretary.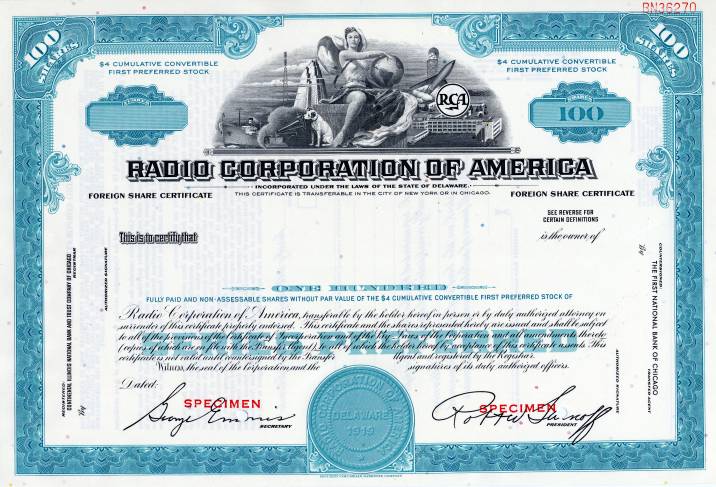 Certificate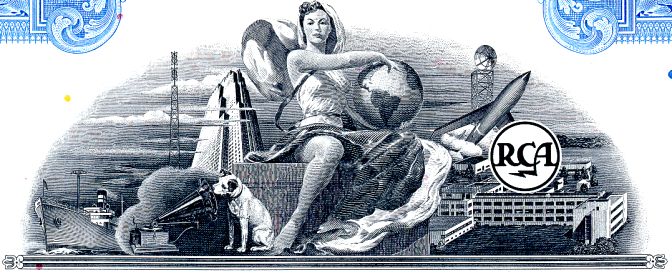 Certificate Vignette
New York Times - Published: February 24, 1997 Robert W. Sarnoff, who succeeded his father as chairman of the RCA Corporation and steered it into a hodgepodge of new businesses before being removed more than 20 years ago in a ''palace revolt,'' died on Saturday at Lenox Hill Hospital. He was 78 and lived in Manhattan. His wife, the opera soprano Anna Moffo, said the cause was cancer, a disease he had battled for 16 years. The eldest son of the legendary Brig. Gen. David Sarnoff, often called the father of television, whose stewardship transformed RCA into a multibillion-dollar emblem of American high technology, Robert Sarnoff fulfilled his father's dearest wish that he continue the family name at the helm of RCA. Under him, the giant electronics and communications company became a sprawling enterprise that also rented cars, wove carpets, published books, sold frozen peas and raised chickens. In one of the messier chapters of corporate endeavor, Mr. Sarnoff extricated RCA from a troubled foray into the computer business, an episode that cost the company dearly. In 1975, with RCA drifting and its profits shriveling, discontent by senior executives and board members led to Mr. Sarnoff's ouster as chairman and chief executive. RCA continued to flounder in the hands of his successors. In 1985, while on the road to recovery, it was bought by the General Electric Company and ceased to exist. Robert Sarnoff was born in New York on July 2, 1918. His father was the son of Russian immigrants, and his mother, Lizett Hermant, was born in France. He attended private schools and went to Phillips Academy in Andover, Mass. In 1939, he received a bachelor's degree in government and philosophy from Harvard University. Feeling that going into his father's business would be too familiar, he aspired for something different. His father suggested law. After a year at Columbia Law School, however, Mr. Sarnoff entered Government service in Washington, working in the broadcasting section of the Office of Strategic Services. A year later, he was commissioned an officer in the Navy. He saw active duty in the South Pacific during World War II. When he left the Navy in 1945, he sampled the media business, working as an assistant to the publisher at The Des Moines Register and Tribune and then at Look magazine. In 1948, he came to RCA. He was hired as an account executive in the sales department of RCA's National Broadcasting Company subsidiary. Over a period of years, he held a wide assortment of positions at the network, and once remarked that for a time he was the in-house expert on the ''Howdy Doody Show.'' He commissioned an opera, ''Amahl and the Night Visitors,'' from Gian Carlo Menotti that in 1953 was the first commercial program broadcast in color. At one juncture, one of his responsibilities was touring with Arturo Toscanini and the NBC Symphony. His incessant traveling facilitated his passion for collecting rare antiques and modern sculpture, especially Oriental art. By 1956, he was president of NBC. All along, it was evident that he was being groomed to succeed his father, known always as General Sarnoff. In 1965, with the elder Sarnoff nearly 75, Robert Sarnoff became president of RCA. Two years later, he was elevated to chief executive, and in 1970 he assumed the position of chairman from his father, then 78 and seriously ill. His father died the following year. It was an imposing legacy that the younger Sarnoff was handed. His father was an ingenious and visionary, although acerbic, leader who barely completed grade school and rose from a $5.50-a-week job as an office boy to a position of immense influence. Founded in 1919 by Government directive, RCA was a storied organization. It sold the first crystal set radios in 1922. It was David Sarnoff who organized NBC in 1926, and who unveiled television to a breathless public at the 1939 World's Fair. Under him, RCA became one of the most widely recognized and admired corporations in the world. One of the first things Robert Sarnoff did as chief executive was to discard the corporate logo of the encircled initials ''RCA'' atop a lightning bolt, in favor of something he felt would be more modern. Designers spent a year on the project before settling on the three squared letters stripped of adornment. Mr. Sarnoff also sent to the pound one of the best-known dogs in the world. Nipper, the black-and-white terrier usually depicted peering with head cocked into the horn of a Victrola, listening for ''His Master's Voice,'' was de-emphasized as a corporate symbol. It was also decided that the full name ''Radio Corporation of America'' would be abandoned in favor of the three initials. Mr. Sarnoff was smitten by the corporate wisdom of the 1960's that favored diversification into unrelated businesses, a notion that gave currency to the word ''conglomerate.'' And thus he embarked on a spasm of acquisition. RCA bought Random House, the publishing house. It bought Hertz, the car rental company, a rug maker, a real estate concern and Banquet Foods, which, among other things, was one of the nation's largest chicken farmers. Mr. Sarnoff also chose to confront the seemingly impervious International Business Machines Corporation in the computer business. RCA, however, found little but misfortune in computers. In 1971, Mr. Sarnoff gave up on the effort. He wrote off RCA's entire computer business for $490 million, an action that resulted in harsh criticism of his leadership. Though he survived that debacle, Mr. Sarnoff increasingly found himself under siege and ultimately was forced to leave the company. His departure meant that for the first time since its founding, RCA did not have a member of the Sarnoff family among its top executives. Later, Mr. Sarnoff became an investor in, and consultant to, the film studios in Astoria, Queens. In addition to his wife, Mr. Sarnoff is survived by two brothers, Edward, of Purchase, N.Y., and Thomas, of Beverly Hills, Calif.; three daughters, Rosita Sarnoff of New York, Serena Benenson of New Canaan, Conn., and Claudia Parrot of Tunbridge, Vt., and three grandchildren.
---
The federal government's takeover of the wireless industry during the Wolrd War I accomplished two things: it focused efforts and funds on further technological improvements and it sorted out the tangle of patent infringements that had crippled industry development. Wartime experience convinced Assistant Navy Secretary Franklin D. Roosevelt that radio patents should be kept under American control. General Electric, which was planning a major sale of broadcasting equipment to the British Marconi company, was asked instead to take the lead in organizing an American radio concern. GE agreed, and the Radio Corporation of America was formed in October 1919. RCA took over the assets of American Marconi and responsibility for marketing the radio equipment produced by GE and Westinghouse. Conceived as a "marriage of convenience" between private corporations and the government for the development of wireless communication, RCA soon grew in a different direction. Just six years later, RCA's revenues from "wireless" came to $4 million. Revenue from the sale of consumer Radiolas and related equipment had grown to $46 million and the gap was widening. Westinghouse, one of RCA's manufacturers, received the first commercial broadcasting license in 1920. A few days later, station KDKA went on the air with the returns of the Harding-Cox presidential election. RCA was on the air with the world heavyweight boxing championship by the next summer, a marketing brainstorm of RCA General Manager David Sarnoff. Stock research by
OldCompany.com
(old stock certificate research service).
---
About Specimen Certificates
Specimen Certificates are actual certificates that have never been issued. They were usually kept by the printers in their permanent archives as their only example of a particular certificate. Sometimes you will see a hand stamp on the certificate that says "Do not remove from file". Specimens were also used to show prospective clients different types of certificate designs that were available. Specimen certificates are usually much scarcer than issued certificates. In fact, many times they are the only way to get a certificate for a particular company because the issued certificates were redeemed and destroyed. In a few instances, Specimen certificates were made for a company but were never used because a different design was chosen by the company. These certificates are normally stamped "Specimen" or they have small holes spelling the word specimen. Most of the time they don't have a serial number, or they have a serial number of 00000. This is an exciting sector of the hobby that has grown in popularity over the past several years.