Beautifully engraved certificate from the Radio Products Corporation issued in 1930. This historic document was printed by the E.A. Wright Banknote Company and has an ornate border around it with a vignette of two radio towers beside a river and a business with the company's name between the towers. This item has the printed signatures of the Company's President, Frank Schultz, and Secretary, Luke L. Stager, and is over 81 years old.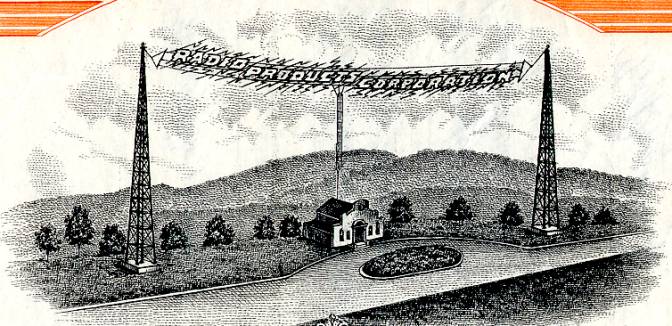 Certificate Vignette
NEW RADIO COMPANY FORMED in 1929 Formation of the Radio Products Corporation by the Schultz Machine Company, Inc., has been announced at New York. The new company will acquire the assets and business of Vacuum Tube Products, a copartnership operating in Hoboken, N. J. Its authorized capitalization consists of 200,000 shares of no-par common stock, of which 100,000 will be outstanding.