Beautiful certificate from the Shubert Theatre Corporation issued in 1930. This historic document was printed by the American Banknote Company and has an ornate border around it with a vignette of two allegorical women, one with a harp and the other with pen and paper. This item has the signatures of the Company's Vice President, and Secretary, (William Klein) and is over 87 years old.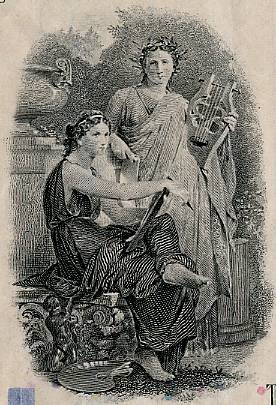 Certificate Vignette
The company was incorporated in 1924 and was engaged in the business of producing legitimate theatrical attractions, booking legitimate attractions in theatres throughout the United States, and operating approximately 40 theatres in eight states for the presentation of legitimate attractions. They owned 23 theatres and had leases on 25 theatres and owned stock interests in an additional 7 theatres.