Beautiful letter from the Raljon Corporation printed in 1977. This historic document was printed by the Crane & Company with a vignette of the Company's logo. This item has the signature of Jack Kent Cooke, and is over 33 years old. The letter refers to an amendment of Kareem's contract.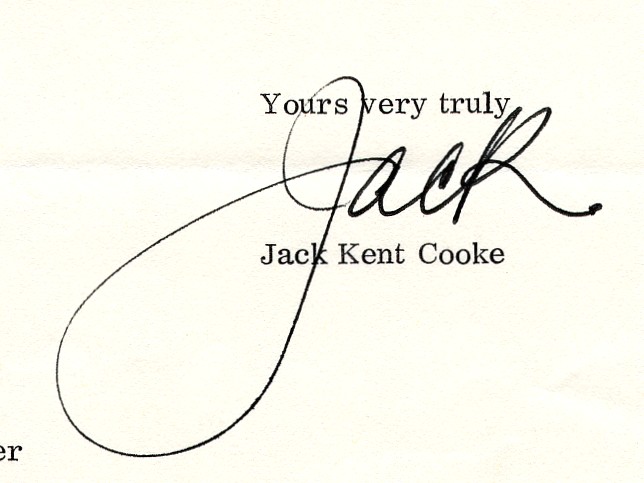 Jack Kent Cooke's Signature
Raljon Corporation was Jack Kent Cooke's company that controlled the Los Angeles Lakers and Kings in the late '70s. He came up with the the name from Ralph and John Cooke, his two sons' names. Jack Kent Cooke (October 25, 1912 April 6, 1997) was a Canadian-American entrepreneur who became one of the most widely-known executives in North American professional sports. He owned the Washington Redskins (NFL), the Los Angeles Lakers (NBA), and the Los Angeles Kings (NHL), and built the The Forum in Inglewood, California. Born in Hamilton, Ontario, Cooke moved with his family to The Beaches area of Toronto in 1921, where he attended Malvern Collegiate Institute. He was an encyclopedia salesman in the 1930s before becoming a runner on the floor of the Toronto Stock Exchange. He was selling soap in Northern Ontario for Colgate-Palmolive in 1936 when he met Roy Thomson, who hired Cooke to run radio station CJCS in Stratford, Ontario. The two became partners in 1941, buying radio stations and newspapers in Ontario and Quebec. With the financial backing of J. P. Bickell, Cooke purchased CKCL in 1945, changing the call letters to CKEY. He also continued to work with Thomson, and the two acquired the Canadian edition of Liberty magazine in 1948, naming it New Liberty. The following year, Thomson sold his half of the magazine to Cooke. In 1951, Cooke ventured into sports, acquiring the minor league Toronto Maple Leafs baseball club. He transformed the games from straight athletic contests into complete entertainment packages, with a long list of special promotions and celebrity appearances. With his focus on entertainment, Cooke was compared to St. Louis Browns owner Bill Veeck. Five months after becoming owner, Cooke presented a 48-page booklet to all the teams in the league, outlining his promotional strategies. He was named minor league exeuctive of the year by The Sporting News in 1952. That same year, Cooke purchased Consolidated Press, publisher of Saturday Night magazine. He made an unsuccessful bid for The Globe and Mail newspaper in 1955. While owning the Maple Leafs baseball team, Cooke set his sights on bringing Major League Baseball to Toronto. He tried to purchase the St. Louis Browns, Philadelphia Athletics, and Detroit Tigers when they came up for sale, and in 1959 he became one of the founding team owners in the Continental League, a proposed third major league for professional baseball. The league disbanded a year later without ever staging a game. Cooke still hoped to get an American League expansion team in Toronto, but the city's lack of a major league venue became an impasse. Cooke would sell the Maple Leafs in 1964 and was inducted into the Canadian Baseball Hall of Fame in 1985. In 1960, Cooke lost a bid to obtain a license for the first privately-owned TV station in Toronto. There had been nine bids in a highly competitive process, and the license was awarded to a consortium comprised of Aldred-Rogers Broadcasting and the Telegram Corporation, which launched CFTO-TV. Within weeks of being turned down for the Toronto TV license, Cooke applied for U.S. citizenship. With the support of Francis E. Walter, Cooke quickly became a citizen when both houses of Congress and President Dwight D. Eisenhower approved a waiver of the usual five-year waiting period. He sold CKEY at the end of 1960 and Consolidated Press in 1961. At the time, Canada and the U.S. both had laws prohibiting foreign control of radio and TV stations. Cooke had entered the U.S. broadcasting industry in August 1959 by acquiring Pasadena, California radio station KRLA through his brother, Donald Cooke, a U.S. citizen. Cooke formed American Cablevision in the 1960s and acquired several cable television companies. He acquired majority ownership of TelePrompTer cable TV and sold it in the late 1970s for $646 million.[2] In 1980, he bought the Chrysler Building in New York City, one of the world's most renowned skyscrapers. In 1985, Cooke bought the Los Angeles Daily News for $176 million. A year later, he acquired another cable TV company. In 1961, Jack Kent Cooke purchased a 25 percent interest in the Washington Redskins, becoming majority owner in 1974 and sole owner in 1985. In September 1965, he purchased the Los Angeles Lakers for $52.2 million. While he was owner of the Redskins, Cooke's team won three Super Bowls under head coach Joe Gibbs in 1983, 1988, and 1992. In 1997, Cooke completed a stadium deal in Landover, Maryland, for a new home for his team. Initially, the community was called Raljon--a name devised by Cooke by combining the names of his sons Ralph and John. The name fell into disuse in 1999. Cooke died in 1997 of cardiac arrest at age 84. The stadium was posthumously named Jack Kent Cooke Stadium, which was changed to FedExField in 1999. In his will, Cooke left the team and stadium to his foundation with instructions to sell it. Cooke's son, John Kent Cooke, tried to put in a competitive bid to keep the team in the family, but it instead went to local businessman Daniel Snyder and his associates for a record-setting $800 million. As a Canadian, Cooke's first love was ice hockey, and he was determined to bring the National Hockey League to Los Angeles. When the Pacific Coast Hockey League, which maintained franchises in California, threatened to become a major league and compete for the Stanley Cup, Cooke paid the NHL $2 million to establish a team in Los Angeles. The Los Angeles Kings were welcomed into the League in 1967. In order to accommodate his new hockey team as well as the Lakers, Cooke announced that he would be building "the most beautiful arena in the world". He delivered on his promise, unveiling The Forum in the L.A. suburb of Inglewood to rave reviews. The building was soon nicknamed The Fabulous Forum. The Kings struggled both on the ice and at the gate, however. Cooke had been told that there were over 300,000 former Canadians living within a three-hour drive of Los Angeles, and remarked, "Now I know why they left Canada: They hate hockey!" Cooke sold the Forum, Kings and Lakers in 1979 to Dr. Jerry Buss. In 1967, Cooke was a founder of the United Soccer Association and owned the Los Angeles Wolves team. In 1971, he was financial backer of the first Muhammad Ali vs Joe Frazier boxing match, held at Madison Square Garden and won by Frazier. A lover of horses and a fan of Thoroughbred horse racing, Cooke owned Kent Farms, a 640-acre (2.6 km²) estate in Middleburg, Virginia, not far from Washington, D.C. In December of 1984 he purchased the historic Elmendorf Farm in Lexington, Kentucky from the estate of Maxwell Gluck. He bred and raced a number of successful horses, notably Flying Continental whose wins included the 1990 Jockey Club Gold Cup. Cooke was married five times; two of those marriages were to his final wife. His first marriage, to Barbara Jean Carnegie in Toronto in 1934, ended in 1979 in what was at the time the largest divorce settlement in history--$42 million. The presiding judge was Joseph Wapner, who later came to fame as the judge on The People's Court. His second marriage, to Jeanne Maxwell, lasted 10 months. Cooke's third wife, Suzanne Elizabeth Martin, had a baby girl whom she named Jacqueline Kent Cooke when Jack Kent Cooke was 74 and she was 31. However, the marriage was dissolved after 73 days. She sued Cooke for $15 million. Following his death, it was revealed that his final wife, Marlene Ramallo Chalmers--a former drug runner from Bolivia who was 40 years his junior--had been cut out of his will. They had married in 1990, divorced in 1993, and remarried in 1995. She filed suit against the estate and reportedly received $20 million in a settlement reached about a year after Cooke's death. The bulk of Cooke's $825 million estate went into establishing the Jack Kent Cooke Foundation to help struggling people achieve the same success that he enjoyed. The stated mission of the foundation is to "help young people of exceptional promise reach their full potential through education." The other terms of his will reveal multiple changes of heart regarding his wives and children, and received considerable public attention at the time of his death. History from Wikipedia and OldCompanyResearch.com (old stock certificate research service). History from Wikipedia and
OldCompany.com
(old stock certificate research service).