Beautiful certificate from the Seneca Mining Company issued in 1906. This historic document was printed by W.H. Arthur & Co. and has an ornate border around it with a vignette of an allegorical woman gesturing towards an old mine. This item has been hand signed by the Company's Assistant President, and Secretary, and is over 105 years old. Signs of wear.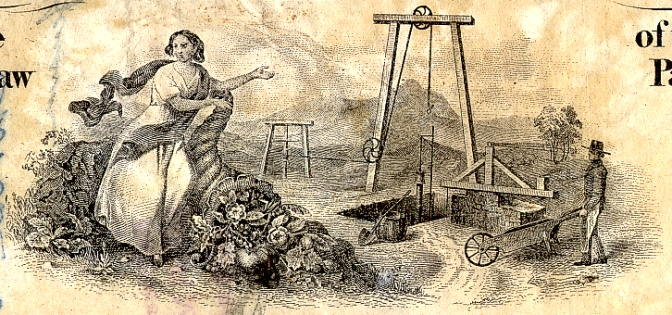 Certificate Vignette
Mining Prectices - 1919 The Seneca Mining Co., at Mohawk, Mich., is sinking a compound shaft, which is to be vertical to a point 1450 ft. from the surface and will then follow a 400-ft. radius curve to meet the Kearsarge lode, which dips at an angle of 34° from the horizontal. The equipment and methods adopted in sinking are in accordance with modern practice, and the progress made has established a record for shaft sinking in the Lake Superior district. The shaft is to be of four compartments, having two skipways, one ladderway and one pipe compartment. Over-all dimensions of the excavation are 11 ft. 4 in. x21 ft. 4 in. and steel sets of 5-in. H-beam construction are placed at from 6 to 8-ft. centers, depending upon the nature of the ground. These sets a'-e put in so that they are placed 4 ft. from the bottom when the ground is soft, up to 30 ft. from the bottom when the ground is hard. The lagging is of 2-in. hard wood. A double-drum steam hoist operates two 36-cu.ft. bucket's. Air is furnished by one Sullivan tandem-compound, Corliss steam-driven compressor, and one class WB-2 Sullivan straight line, simple steam, two-stage in the shafthouse, and the rock had to be trammed by hand. Three shifts were worked, with only four or five men on a shift, and under these conditions progress was slow. During February, 51 ft. was sunk, and in March 113 ft., with conditions about the same. Early in April the rock-disposal hauling outfit was completed, the headframe inclosed, and steam heating coils were installed, so that 154 ft. of shaft was sunk during that month. By increasing wages 50c. per day the management was able to secure sufficient men by May 1, and since that time the work has been carried on at full capacity, the crew averaging ten men and one shiftboss per shift, and working three shifts. During May 208 ft. was sunk in 27 working days, and this rate was maintained in June, when 195 ft. was sunk in 25 working days. This figure would have been exceeded had not the men encountered loose, soft ground, which caused considerable delay, as it was necessary to keep the steel work close to the bottom of the shaft to guard against loose rock falling on the men. The bonus system which has been adopted consists of air compressor is installed as a reserve. At the beginning of operations eight Sullivan DP-33 air tube rotators and eight hand hammer-drills of another make were in use. It was soon obvious that the Sullivan rotators were securing better results. Four more Sullivan rotators were purchased in April, and since that time 11 have been in constant operation, and two kept as spares. The header, shown in an accompanying cut, is connected to the main air line by a 3-in. hose and is supported in the center of the shaft while drilling by means of a cable leading from the steel framework. There are 11 hose lines, each 14 ft. long and leading from the bottom of the header to the drills; also one connection for a blowpipe. Excavation was begun on Feb. 13 during severe weather conditions as well as other handicaps. Water froze in the buckets, there were no steam lines installed. Reported in Michigan's mineral industries By Michigan. Geological Survey Division, United States. Bureau of Mines - 1917 Seneca Mining Company. On April 13, 1916 the announcement was made that a syndicate composed of Thomas F. Cole, of Duluth, Tucker, Hayes & Bartholomew, with some associates, had secured control of over 60 per cent of the stock of the Seneca Mining Company, control of which was owned by the Calumet & Hecla Mining Company. The Seneca adjoins the Mohawk and Ahmeek and carries the Kearsarge lode on the dip. It was further announced that a new corporation would be organized having 200,000 shares of stock. Thomas F. Cole was to be president of the new company and W. J. Uren, general manager. Immediate operations were planned to develop the south end of the property by sinking a shaft. This deal, however, did not materialize for various reasons. In the early part of December announcement was made that Tucker, Hayes & Bartholomew, in association with Lewisohn Brothers of New York, had secured a renewal of the option from the Calumet & Hecla, carrying control of the Seneca Mining Company. It was proposed to form a new company, the Seneca Copper Company, with 250,000 shares, 200,000 shares to be issued at $15 per share. W. J. Uren was named as general manager. On December 23, 1916 the Calumet & Hecla sold its 11,207 shares of Seneca for $60 a share, receiving $672,420. In making this sale, it was stipulated that the other shareholders should receive an offer of $60 a share for their shares, provided they were presented within a reasonable time. Operations at the new Seneca will probably be begun in the spring of 1917 under the direction of W. J. Uren.