Beautifully engraved unissued tax certificate from the Internal Revenue Service for the Business of Rectifier of Distilled Spirits dated 1876. This historic document has a vignette of an allegorical figure sitting in front of a distiller. Punch Cancelled.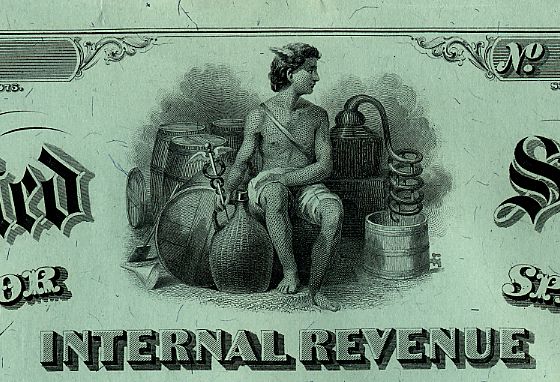 Certificate Vignette
There are 12 spaces on the left side of the certificate so it could be punched to represent the month the tax was paid. Please note that the scan clipped the item a little on the left due to the size of the certificate. Republicans phased out unpopular war excise taxes throughout the late eighteen sixties and early seventies, except for sin taxes on alcohol, tobacco, and certain luxury items. Tobacco and alcohol excises were consistent money-makers, providing nearly 50% of the federal tax revenues by the 1890s.