Beautiful SCARCE Specimen certificate from the ValuJet, Inc. This historic document was printed by the Jeffries Banknote Company and has an ornate border around it with a vignette of the company's logo (cartoon jet) flying over the company name. This item has the signatures of the Company's President and Chief Operating Officer, and Secretary.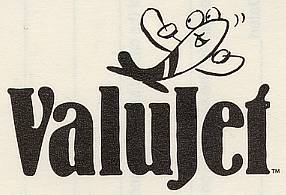 Certificate Vignette
ValuJet Airlines, Inc., was a large regional airline that offered affordable, no-frills, limited-frequency, short-haul flights primarily in the eastern United States. Its no-frills philosophy allowed the airline to offer low fares and to attract travelers who would have otherwise used ground transportation. ValuJet Airlines was incorporated in July 1992 and became a wholly owned subsidiary of ValuJet Inc. in October 1995. In May 1996, an accident involving a flight from Miami to Atlanta, in which there were no survivors, dramatically changed the operations of ValuJet. Before the accident, ValuJet offered service to 31 markets from its hub cities of Atlanta; Washington, D.C.; and Boston. On June 17,1996, an FAA consent order resulting from the fatal crash required the company to suspend operations. ValuJet's rapid growth since starting no-frills service in 1993 came to a halt with the crash of Flight 592 in 1996, and a subsequent grounding. As a result, the company was forced to merge with AirTran Airways Corp to form AirTrans Holdings in 1997.
---
About Specimen Certificates Specimen Certificates are actual certificates that have never been issued. They were usually kept by the printers in their permanent archives as their only example of a particular certificate. Sometimes you will see a hand stamp on the certificate that says "Do not remove from file". Specimens were also used to show prospective clients different types of certificate designs that were available. Specimen certificates are usually much scarcer than issued certificates. In fact, many times they are the only way to get a certificate for a particular company because the issued certificates were redeemed and destroyed. In a few instances, Specimen certificates were made for a company but were never used because a different design was chosen by the company. These certificates are normally stamped "Specimen" or they have small holes spelling the word specimen. Most of the time they don't have a serial number, or they have a serial number of 00000. This is an exciting sector of the hobby that has grown in popularity over the past several years.