Beautifully engraved SPECIMEN certificate from the Varity Corporation. This historic document was printed by British American Bank Note Inc. and has a block border with a vignette of three allegorical figures. This item has the printed signatures of the Company's Chairman and Secretary.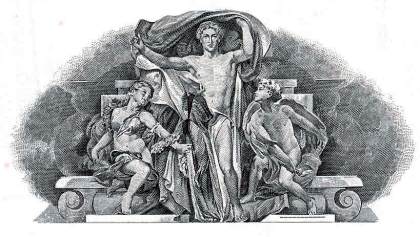 Certificate Vignette
Tracing its roots to 1847 in central Ontario's lush farm belt, Varity Corporation has evolved from Canada's first multinational to a global enterprise with market-leading positions across a broad range of capital goods. Until 1986 Varity was known as Massey-Ferguson Limited. Under the Massey banner the company had become the world's leading producer of farm tractors. After the agricultural equipment industry entered a long-term decline in the mid-70s, however, new management charted a fresh course that has seen the emergence of three primary business segments--automotive components, farm and industrial machin-ery and diesel engines. In automotive components Varity's Kelsey-Hayes Group is the world's largest producer of anti-lock braking systems and the largest independent manufacturer of aluminum and steel wheels for passenger cars. Varity assigned its former corporate identity, Massey-Ferguson, to its farm and industrial machinery group, which has been the western world's top-selling range of tractors for more than 25 years in a row. As the third primary Varity business, the Perkins Group is a world leader in design and manufacture of diesel engines for construction and industrial equipment, cars and trucks, farm machinery, boats and many other types of equipment. Varity's wholly owned businesses operate 35 plants in five countries and employ nearly 20,000 people. Varity products are also made by associates and licensees in 23 countries and are marketed globally through a network of 9,000 distributors, dealers and other sales-service outlets.
---
About Specimens
Specimen Certificates are actual certificates that have never been issued. They were usually kept by the printers in their permanent archives as their only example of a particular certificate. Sometimes you will see a hand stamp on the certificate that says "Do not remove from file". Specimens were also used to show prospective clients different types of certificate designs that were available. Specimen certificates are usually much scarcer than issued certificates. In fact, many times they are the only way to get a certificate for a particular company because the issued certificates were redeemed and destroyed. In a few instances, Specimen certificates were made for a company but were never used because a different design was chosen by the company. These certificates are normally stamped "Specimen" or they have small holes spelling the word specimen. Most of the time they don't have a serial number, or they have a serial number of 00000. This is an exciting sector of the hobby that has grown in popularity and realized nice appreciation in value over the past several years.