Beautiful engraved specimen certificate from the Vic Tanny Enterprises, Inc incorporated in 1961. This historic document was printed by Security-Columbian Bank Note Company and has an ornate border around it with a vignette of an eagle. This item has the printed signatures of the Company's President, Vic Tanny and Secretary. This is the first time we have seen this certificate for sale.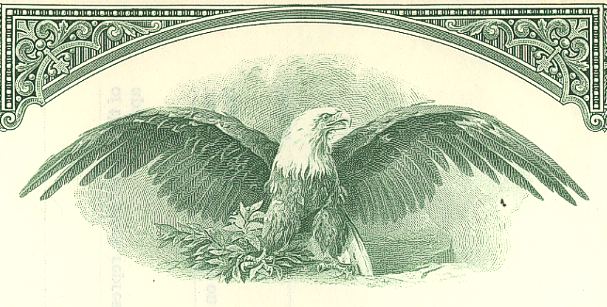 Certificate Vignette
Victor "Vic" Tanny (c 1912 - June 11, 1985) was a pioneer in the creation of the modern health club. In 1935 he opened his first club in his hometown of Rochester, New York. In 1939 he sold the club and opened a new one in Santa Monica, California. The Vic Tanny Centers flourished in the 1950s and early to mid-1960s and expanded the field to a new type of customer. Prior to the advent of Tanny, gyms had the reputation of being strictly for men, and often of the rougher type at that - sweaty, dirty, and dingy lairs reserved for serious bodybuilders, like Bob Kerstein. Tanny's gyms were modern and inviting in comparison, featuring amenities such as mirrors and carpets, and welcomed both men and women. Tanny's business eventually fell into bankruptcy -- a result, analysts said, of over-expansion, poor management, and insufficient capital -- and the Vic Tanny Centers were closed or sold, though some retained the Vic Tanny name. Nonetheless, Tanny's gyms had played a part in the evolution of the all-male gym to the modern fitness club of today. Many of the Tanny health clubs became part of the Bally Total Fitness network. History from Wikipedia and OldCompany.com (old stock certificate research service).
---
About Specimens
Specimen Certificates are actual certificates that have never been issued. They were usually kept by the printers in their permanent archives as their only example of a particular certificate. Sometimes you will see a hand stamp on the certificate that says "Do not remove from file". Specimens were also used to show prospective clients different types of certificate designs that were available. Specimen certificates are usually much scarcer than issued certificates. In fact, many times they are the only way to get a certificate for a particular company because the issued certificates were redeemed and destroyed. In a few instances, Specimen certificates we made for a company but were never used because a different design was chosen by the company. These certificates are normally stamped "Specimen" or they have small holes spelling the word specimen. Most of the time they don't have a serial number, or they have a serial number of 00000. This is an exciting sector of the hobby that grown in popularity over the past several years.