Beautifully engraved Convertible Preferred Specimen certificate from the Warner Brothers Company. This historic document was printed by the Security-Columbian Banknote Company and has an ornate border around it with a vignette of an allegorical woman in front of a city. This item has the printed signatures of the Company's President, and Secretary.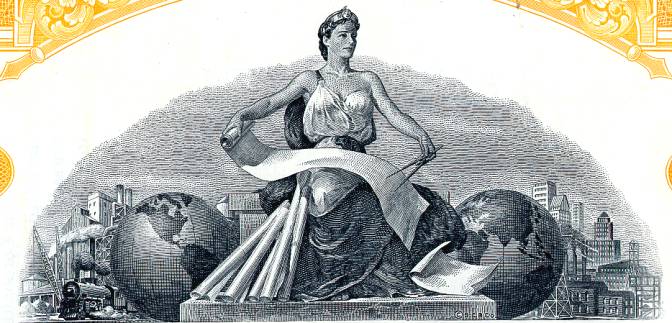 Certificate Vignette
The Warnaco Group, Inc. (NYSE: WRC) is an American textile/apparel corporation which designs, sources, markets, licenses, and distributes a wide range of intimate apparel, sportswear, and swimwear worldwide. Its products are sold under several brand names including Calvin Klein, Speedo, Chaps, Warner's, and Olga. Lucien Warner, 1889. Dr. Warner's Coraline Health Corset[edit] Dr. Warner's Health Corsets In the late 19th century, Dr. Lucien Warner, a prominent physician gave up his Cortlandville, NY practice to begin a new career on the medical lecturing circuit, specializing in women's health issues. Dr. Warner lectured about the harmful effects of the rigid steel-boned corsets of the time. After seeing how little influence his lectures had on women's attitudes towards fashion, he returned to his New York home and began a more aggressive approach to fighting the ills caused by the corset.[6] In 1873, he designed a corset that provided both the shape desired by women and the flexibility required to allow some movement and reduce injuries caused by previous designs. The next year, Lucien Warner and his brother Dr. Ira De Ver Warner gave up their medical practices and founded Warner Brothers Corset Manufacturers[7]. Dr. Warner's Coraline Health Corsets, as they were marketed[8], were made up of two pieces of cloth which were laced or clasped together. These revolutionary undergarments also featured shoulder straps and more flexible boning and lateral bust supports[9] made of Coraline, a product of the fibers of the Mexican Ixtle plant[10][11]. By 1876, the popularity of this new, more flexible design had grown in popularity so much so that the company moved its manufacturing operations to Bridgeport, CT, where approximately 1,200 people were employed to produce approximately 6,000 corsets daily.[12] In 1883 Harper's Bazaar advertised the four most popular corsets in America as Dr. Warner's models[13] The success of the Warners' designs had made the brothers millionaires and in 1894 they retired and turned control of the company over to De Ver's son, D.H. and the Warner Brothers partnership was changed to a corporation. The Warner Brothers Corset Co. The turn of the century saw even greater success for the company in the hands of the founders' sons. New products included the rust-proof corset and combination corset and hose-supporter. By 1913 sales reached $7 million and profits averaged $700,000 annually[14] Two years later, The Warner Brothers Corset Co. paid $1,500 for Mary Phelps Jacob's patent for the brassiere - a move which helped boost revenues to $12.6 million by 1920[14]. The Jazz Age and Flapper movement of the 1920s saw the desire for less restrictive fashions. Women had a more care-free attitude toward life and ditched the corset and pantaloons in favor of breast-binding bandeaus and step-in panties[15]. This was a difficult time for the company. Sales through the decade declined and efforts made by the company to adapt to these changing times were met with little success. The Great Depression of the 1930s was difficult on the apparel industry and Warner was no exception to this financial suffering. Even as the boyish figure of the previous decade's Flappers fell out of style and curves made a return to fashion, Warner struggled. By 1932, the company had lost more than $1 million[14]. The company's troubles were only made worse by the personal deterioration of CEO, D.H. Warner, who was known as a depraved womanizer[14]. After his wife died in 1931, D.H. continued to finance his debauchery with company profits and drink to excess before dying in 1934 at the age of 66. Control of the company was handed to his son-in-law, John Field[14]. With Warner's ABC Alphabet Bras you have the advantage of original skilled designing that insures the best of fit to every customer - A,B,C or D.[edit] ABC and IPO With the corset all but extinct by the mid 1930s, the company's new leadership focused on developing new products. In 1937, the company that revolutionized corsetry revolutionized the brassiere by assigning letters to various cup sizes[16]. The ABC Alphabet Bra set the standard for bra sizing that is still used today. By the early 1940s, the company was profitable again, bringing in $1 million by 1947[14]. Sales of bras, girdles, and the cross-promotion of the Merry Widow line of corselets with the 1952 Lana Turner movie of the same name, led to record profits[14]. A partnership between Dupont and Warners lead to the 1959 invention of Lycra, which allowed for new designs in shapewear and more snug-fitting bras[17] The late 1950s also saw Warner Brothers diversify its product lineup to include menswear and accessories, as well as sportswear for both men and women. Distribution was expanded by sales in large chain department stores such as JC Penney and Sears. The company also expanded production opening manufacturing facilities in South America and Europe. In 1960, Warner Brothers Company purchased major American shirt manufacturer C.F. Hathaway strengthening the company's foothold in the sportswear market. Warner Brothers went public in 1961 and was soon generating revenues in excess of $100 million[14]. [edit] Warnaco The Warner Brothers Company changed its name to Warnaco, Inc. in 1968, and continued to grow its business exponentially through various mergers and acquisitions throughout the 1970s. By the middle of the decade, Warnaco had become a multi-national apparel conglomerate with almost 20 divisions. Despite the company's diverse portfolio, however, Warnaco was struggling to turn a profit. Recognizing the potential failure, Field handed management of the company over to James Walker and Philip Lamoureux. Walker was named CEO in 1977[18][19]. Lamoureux and Walker turned the company around quickly and in 1982, Lamoureux left the company. A year later, Walker died unexpectedly[14]. That year brought in $28.3 million[14]. However, some of the cost-cutting measures implemented by Lamoureux and Walker - including cutbacks in research and in advertising - hurt the company more than helping it. In 1986, after being away from the company for nine years[20], former lingerie division president Linda J. Wachner engineered a $550 million hostile takeover[21] Wachner had previously risen through the ranks at Max Factor, making the declining cosmetics company profitable again within just two years[20]. She wasted no time at Warnaco and right away went to work streamlining the company's fifteen divisions into just two categories: menswear and intimate apparel. [edit] The Wachner years With Wachner at the helm, the company entered the 1990s as an industry force to be reckoned with. In 1990, Wachner formed a new corporation, Authentic Fitness Corp., for the purpose of separating Warnaco's activewear lines including Speedo and White Stag ski apparel. Wachner's intention was to transform Speedo from swimwear label to retail concept[22]. Authentic fitness went public in June, 1992 and opened its first Speedo Authentic retail store five months later[22] In 1993, Authentic Fitness had a licensing deal with Oscar de la Renta, Ltd. and had acquired swimwear labels Cole, Catalina, and Anne Cole - each from bankruptcies. That same year, Wachner secured a sponsorship deal for the 1996 Summer Olympics in Atlanta, GA.[22]. By 1991, Warnaco's lingerie division had license agreements with Valentino, Ungaro, Scaasi, Bob Mackie, Victoria's Secret and Fruit of the Loom. The menswear division produced shirts, sweaters, neckties and other accessories under names including Christian Dior, Hathaway, Chaps by Ralph Lauren, and Jack Nicklaus. At the end of 1991, the company produced $195.4 million in gross profits and Linda Wachner was named Business Woman of the Year by Fortune Magazine[23]. The remainder of the decade saw Wachner take her company on a buying spree, acquiring designer labels Calvin Klein Underwear, Body Slimmers, ABS by Allan Schwartz, as well as private label sleepwear manufacturers GJM Group, French lingerie company Lejaby-Euralis[24]. Warnaco also acquired the license for Calvin Klein Jeans and Calvin Klein retail stores through its takeover of Designer Holdings, Inc.[25]. The license for Calvin Klein children's clothing was purchased from Commerce Clothing[26] Warnaco closed out the 1990s by selling off its underperforming Hathaway label and reacquiring Authentic Fitness. The company's success peaked in 1998 with $1.95 billion in revenue[14]. Soon after, however, sales dropped rapidly and - saddled with debt from all the recent acquisitions and mergers - in 2000, the company lost $200 million[27]. In 2001, Warnaco filed for Chapter 11 protection and Wachner was fired. On February 4, 2003, Warnaco emerged from bankruptcy. As part of its restructuring, the company sold its White Stag trademark to Wal-Mart and later decided to exit the designer swimwear market and focus on strengthening its Speedo products. The company sold off Ocean Pacific to Iconix Brand Group after just three years of ownership[28]. Also sold, were Catalina, Anne Cole and Cole of California brands. This netted the company approximately $25 million[29]. In 2008, the company also ceased operations under the Michael Kors and Nautica labels, citing a collective $1.7 million in losses from the two brands[29]. In further efforts to boost its swimwear line, Speedo renewed its contract with 8-time Olympic gold medalist Michael Phelps, extending his endorsement through the next Summer Games[30]. Warnaco provides private label swimsuits for Victoria's Secret[29][31]. In order to strengthen its "core intimates" group, (Warner's, Olga, Calvin Klein Underwear), the company shed private label GJM[32] and high-end lingerie brand Lejaby[33]. Since emerging from bankruptcy, Warnaco Group's annual income Reports have shown steady growth[4]. Calvin Klein continues to be a strong performer for the company in both the jeans and intimates sectors. As of Jan 2, 2010, the company operated over 1,000 Calvin Klein retail stores worldwide as well as three online stores[29][34]. It also licenses or franchises an additional 624 stores and the Calvin Klein brand accounted for 75% of the Warnaco Group's $2 billion net sales in 2009[34]. At the end of 2010's second quarter (ending July 3), Warnaco reported that all three divisions - Intimates, Swimwear and Sportswear - contributed to its 14% growth in net revenues to $519.3 million[35] and industry analysts expect continued growth[34][35][36][37][38]. In August, 2010 The Motley Fool named Warnaco one of its Top 10 Values in Consumer Durables, citing the stock's low price-to-earnings multiples as well as its low risk and its potential for growth[39]. History from Wikipedia and
OldCompany.com
(old stock certificate research service).
---
About Specimen Certificates
Specimen Certificates are actual certificates that have never been issued. They were usually kept by the printers in their permanent archives as their only example of a particular certificate. Sometimes you will see a hand stamp on the certificate that says "Do not remove from file". Specimens were also used to show prospective clients different types of certificate designs that were available. Specimen certificates are usually much scarcer than issued certificates. In fact, many times they are the only way to get a certificate for a particular company because the issued certificates were redeemed and destroyed. In a few instances, Specimen certificates were made for a company but were never used because a different design was chosen by the company. These certificates are normally stamped "Specimen" or they have small holes spelling the word specimen. Most of the time they don't have a serial number, or they have a serial number of 00000. This is an exciting sector of the hobby that has grown in popularity over the past several years.