Beautifully engraved certificate from the Austrian Red Cross issued in 1916. This historic document has an ornate border around it with a vignette of 2 female Red Cross workers helping soldiers in the field of battle with smoke in the background. This certificate is over 92 years old.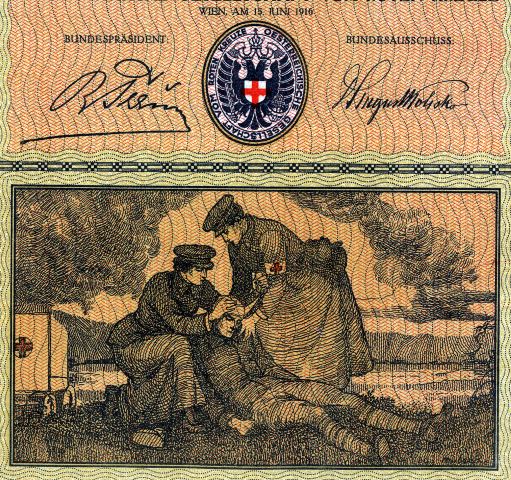 Certificate Vignette
The Austrian Red Cross is recognised by the Austrian government and by the International Committee of the Red Cross (ICRC) as the nation`s official Red Cross Society. The Austrian Red Cross has a federal structure, similar to the state structure, which branches into several agencies on regional, district, and local levels. It is a private, independent, and democratic organisation. Its programs are guided by non-profit philosophies and charitable ideals. It implements humanitarian activities in the private and public sectors with the help of volunteers and paid staff. The Austrian Red Cross' operations are guided by seven principles regarded by the Red Cross Movement as basic requirements for effective and sustainable programs. The organization strictly adheres to these policies to ensure coordinated and uniform strategies and operations. The organization is not influenced by political parties and/or churches. The Austrian National Red Cross Society acts on national and international levels, coordinates all relevant activities, and controls foreign, national and supranational operations Nine Regional Branches: Corporate bodies with operational independence 143 District Branches: Regional subsidiaries that implement activities 930 Local branches The Austrian Red Cross was founded and officially recognized in 1880. The most recent renewal of this recognition dates from the Red Cross protection law in 1962. The society joined the International Federation in 1921. History from Wikipedia and OldCompany.com (old stock certificate research service).