Beautiful engraved SCARCE specimen stock certificate from the XM Satellite Radio Holdings Inc dated in 2000. This historic document was printed by United States Bank Note Company and has an ornate border around it with a vignette of the company logo. This item has the printed signatures of the Company's President, Hugh Parsons and Secretary and is over 13 years old.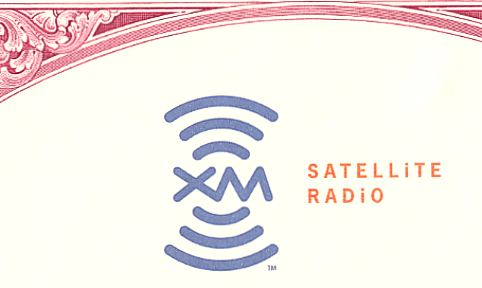 Certificate Vignette
XM was founded in 1992 as American Mobile Radio Corporation and was owned by American Mobile Satellite Corporation (SKYC). The following is from the company's early marketing material: XM Satellite Radio Inc., an emerging force in broadcasting, was incorporated in 1992 and is a wholly owned subsidiary of XM Satellite Radio Holdings Inc. XM is publicly traded on the NASDAQ exchange since October 5, 1999. XM's founding was prompted by the radio industry's first major technological change since the popularization of FM radio in the 1970s: the creation of a third broadcast medium, transmitted by satellite, now taking its place alongside AM and FM on the radio dial. One of only two companies with a license for this new national audio service, XM has assembled a "dream team" of creative radio professionals and a management team committed to leading the world into the next generation of radio. XM transmits 100 discrete, nationwide radio channels to subscribers throughout the continental U.S. in digital sound from coast to coast.
---
About Specimens
Specimen Certificates are actual certificates that have never been issued. They were usually kept by the printers in their permanent archives as their only example of a particular certificate. Sometimes you will see a hand stamp on the certificate that says "Do not remove from file". Specimens were also used to show prospective clients different types of certificate designs that were available. Specimen certificates are usually much scarcer than issued certificates. In fact, many times they are the only way to get a certificate for a particular company because the issued certificates were redeemed and destroyed. In a few instances, Specimen certificates we made for a company but were never used because a different design was chosen by the company. These certificates are normally stamped "Specimen" or they have small holes spelling the word specimen. Most of the time they don't have a serial number, or they have a serial number of 00000. This is an exciting sector of the hobby that grown in popularity over the past several years.