Beautiful certificate from the Yellow Mountain Mines Company issued in 1909. This historic document was printed by the Franklin Lee Bank Note Company and has an ornate border around it with a vignette of an elk. This item has the original signatures of the Company's President, E. R. Austin and Treasurer, and is over 104 years old.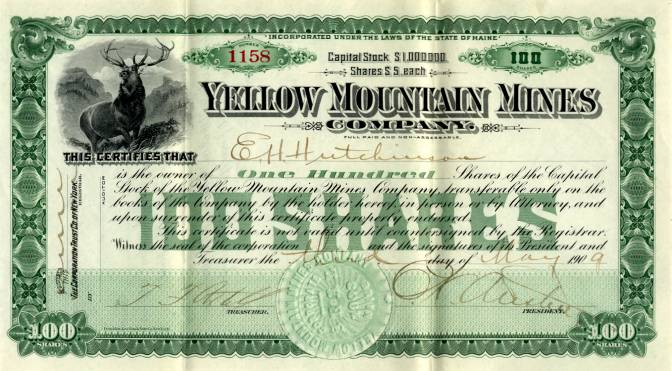 Certificate Vignette
The Yellow Mountain Mines Company was located in San Miguel County, Colorado Reported in 1909 Extensive improvements are to be made at the mine and mill of the Yellow Mountain Mines Co. of Ophir, and it is understood that the property will be extensively developed. E. R. Austin of New York, president of the company, is at the property. TELLURIDE -- The Yellow Mountain Mines Company has put in operation the 10 new stamps which were recently added to Its milling plant, giving it a total of 20 stamps and a treatment capacity of from 60 to 80 tons dally. The machinery is propelled entirely by water power and will continue to be during the winter, there being plenty for that purpose in the coldest months. A new flume- and pipe line was constructed during the summer to increase the supply.