Beautifully engraved Certificate from the Adelphia Communications Corporation . This historic document was printed by the American Banknote Company and has an ornate border around it with a vignette of the company's logo. This item has the printed signatures of the company's officers, including John J. Rigas as President. Shows some wear on top margin from printing.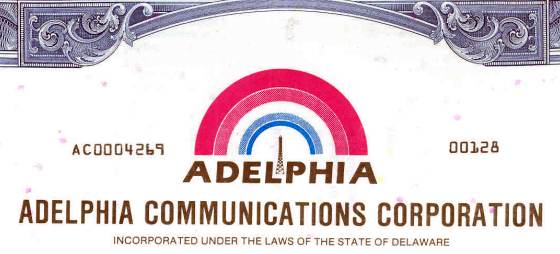 Certificate Vignette
John Rigas, founder of Adelphia Communications Corp., was indicted in September 2002 on charges of bank, wire, and securities fraud. His sons, Timothy and Michael, and two other executives were also charged. Prosecutors allege the executives hid $2.3 billion in liabilities from Adelphia investors and that the Rigases used company funds as their "personal piggy bank." The company filed for bankruptcy protection in June, after it had acknowledged that the Rigases had been given $3.1 billion in off-the-balance-sheet loans. John Rigas stepped down as CEO of the company in May 2002.
---
Modern Certificate Pricing
Please note that if you buy a modern certificate from a discount or full service broker, it can cost you between $55 to $100 and that doesn't even include the cost of the stock. You will be charged for a commission and certificate issuance fee. Furthermore, if the company has been delisted and no longer traded, you will unable to get the certificate. Also, the modern certificates we offer have not been folded in thirds which is usually done if you order them directly from a broker. Lastly, the certificates are not issued in your name so if you frame the certificate and/or subsequently resell it as a collectible, the certificate won't have your personal information printed on its face. We do not require you to pay an additional charge and buy a frame from us for your certificate.
We want our customers to be satisfied and pricing along with quality customer service is an important part of our customer satisfication.