Beautifully engraved certificate from the International Business Machines Corporation issued in 1941. This historic document was printed by Quayle & Son and has an ornate border around it with a vignette of two allegorical women beside the Company's logo. This item has the printed signatures of the Company's President, Thomas J. Watson and Secretary, and is over 79 years old. This is the earliest IBM certificate we have had for sale.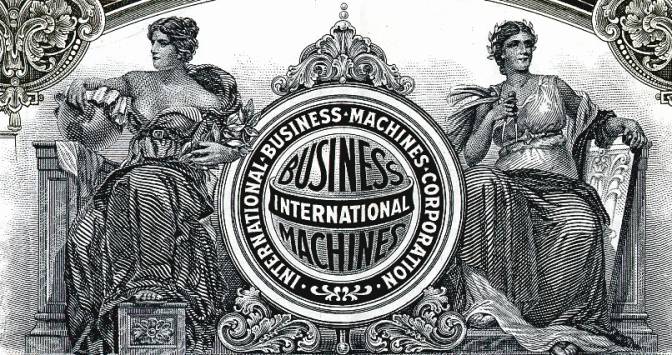 Certificate Vignette
The company which became IBM was founded in 1896 as the Tabulating Machine Company by Herman Hollerith, in Broome County, New York (Endicott, New York or Binghamton, New York), where it still maintains very limited operations. It was incorporated as Computing Tabulating Recording Corporation on June 16, 1911, and was listed on the New York Stock Exchange in 1916 by George Winthrop Fairchild. CTR's Canadian and later South American subsidiary was named International Business Machines in 1917, and the whole company took this name in 1924 when Thomas J. Watson took control of it. IBM's first U.S. trademark was for the name "THINK" filed as a U.S. trademark on June 6, 1935. "THINK" was the IBM philosophy Watson summarized with a motto consisting of one word. The name was attributed to a monthly magazine called 'Think', that was distributed to the employees of IBM in the 1930s. A U.S. trademark for "IBM" was not filed until approximately 14 years later, on May 24, 1949.