Beautiful certificate from the American Collectors Company issued in 1899. This historic document has an ornate border around it with a vignette of the portrait of Columbus. This item has the signatures of the Company's President, G. C. Cafen and Secretary, and is over 118 years old. Professionally reinforced on verso.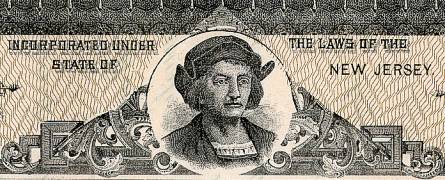 Certificate Vignette
The Calman brothers who along with Henry Collin had bought the Scott Stamp & Coin firm and operated it from 127 Madison. Their father died in 1901, causing them to sell out and take care of their family's firm. The purchasers were a consortium that with $450,000 bought both the Scott and the New England stamp Company (formed March 1893). Among the owners were Ernest M. Carpenter and Albert W. Bachelder (1857-1941), a stamp dealer from Boston who ran the New England Stamp firm portion of the consortium. Additionally, the consortium had Webster Knight (1854-1933), a prominent Rhode Island banker, whose personal collection is now at Brown University and Joseph S. Rich (1860-1932). Rich had joined the Scott Stamp firm under the Calmans in 1895 and, when Henry Collin retired in 1900, became secretary treasurer, a post held until 1913. The consortium named as resident noted author (and its catalog editor) John Luff in 1903. This American Collectors Company consortium ran both Scott and the new England firms.