Beautifully engraved RARE specimen stock certificate from the American Motors Corporations. This historic document was printed by American Bank Note and has an ornate border around it with a vignette of Mercury, a lady and a man with a gear. This item has printed signatures go the Company's President (George Romney) and Secretary and is over 57 years old.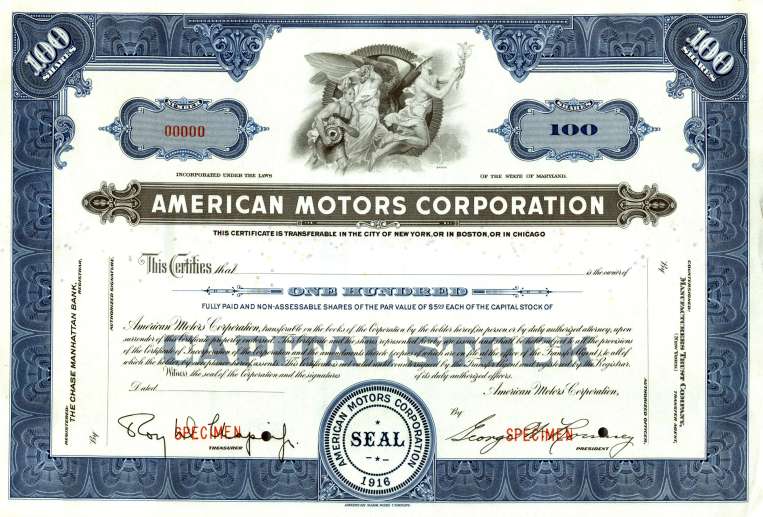 Certificate Vignette
George Wilcken Romney (July 8, 1907 July 26, 1995) was an American businessman and Republican Party politician. He was chairman and president of American Motors Corporation from 1954 to 1962, the 43rd Governor of Michigan from 1963 to 1969, and the United States Secretary of Housing and Urban Development from 1969 to 1973. He was the father of Governor of Massachusetts, 2012 Republican presidential nominee and United States Senator from Utah Mitt Romney, husband of 1970 U.S. Senate candidate Lenore Romney, and grandfather of current Republican National Committee chair Ronna McDaniel. Romney was born to American parents living in the Mormon colonies in Mexico; events during the Mexican Revolution forced his family to flee back to the United States when he was a child. The family lived in several states and ended up in Salt Lake City, Utah, where they struggled during the Great Depression. Romney worked in a number of jobs, served as a Mormon missionary in the United Kingdom, and attended several colleges in the U.S. but did not graduate from any of them. In 1939 he moved to Detroit and joined the American Automobile Manufacturers Association, where he served as the chief spokesman for the automobile industry during World War II and headed a cooperative arrangement in which companies could share production improvements. He joined Nash-Kelvinator in 1948, and became the chief executive of its successor, American Motors Corporation, in 1954. There he turned around the struggling firm by focusing all efforts on the compact Rambler car. Romney mocked the products of the "Big Three" automakers as "gas-guzzling dinosaurs" and became one of the first high-profile, media-savvy business executives. Devoutly religious, he presided over the Detroit Stake of The Church of Jesus Christ of Latter-day Saints. Having entered politics by participating in a state constitutional convention to rewrite the Michigan Constitution during 19611962, Romney was elected Governor of Michigan in 1962. Re-elected by increasingly large margins in 1964 and 1966, he worked to overhaul the state's financial and revenue structure, greatly expanding the size of state government and introducing Michigan's first state income tax. Romney was a strong supporter of the American Civil Rights Movement. He briefly represented moderate Republicans against conservative Republican Barry Goldwater during the 1964 U.S. presidential election. He requested the intervention of federal troops during the 1967 Detroit riot. Initially a front runner for the Republican nomination for President of the United States in the 1968 election, he proved an ineffective campaigner and fell behind Richard Nixon in polls. After a mid-1967 remark that his earlier support for the Vietnam War had been due to a "brainwashing" by U.S. military and diplomatic officials in Vietnam, his campaign faltered even more and he withdrew from the contest in early 1968. After Nixon's election as president, he appointed Romney as Secretary of Housing and Urban Development. Romney's ambitious plans for housing production increases for the poor, and for open housing to desegregate suburbs, were modestly successful but often thwarted by Nixon. Romney left the administration at the start of Nixon's second term in 1973. Returning to private life, he advocated volunteerism and public service, and headed the National Center for Voluntary Action and its successor organizations from 1973 through 1991. He also served as a regional representative of the Twelve within his church. George W. Romney was a former secretary of the Department of Housing and Urban Development, governor of Michigan, chairman of American Motors Corp. and a contender for the 1968 Republican presidential nomination. Mr. Romney was among the luminaries of the national Republican Party after his 1966 election to a third consecutive term as governor of Michigan with a 570,000-vote plurality. But he abandoned his bid for the party's presidential nomination two weeks before the 1968 New Hampshire primary. That was after a three-month campaign that was dogged by his nationally televised comment attributing his initial support for the Vietnam War to his being "brainwashed" by the U.S. military during a tour of the Southeast Asian country. He would later call U.S. participation in the war "the most tragic foreign policy mistake in the nation's history." In a 1989 interview with the Associated Press, Mr. Romney insisted his comments about having been brainwashed had nothing to do with his withdrawal from the presidential race. "It was because Nelson Rockefeller became a candidate, and there was no way I could get the nomination fighting both Rockefeller and Richard Nixon," he said. From 1969 until 1973, Mr. Romney served as HUD secretary. But he left Nixon's Cabinet less than enthusiastic about his federal service, declaring that he looked forward "with great enthusiasm" to his return to private life. Administration support for urban programs had been less than what he had hoped for, he said. In 1974, he became the founding chairman of the Arlington-based National Volunteer Center, an organization that promotes volunteerism. In 1991, the center merged with the Points of Light Foundation, which was supported by President George Bush. A lifelong member and former bishop of the Church of Jesus Christ of Latter-day Saints, Mr. Romney spent two years as a Mormon missionary in England and Scotland during the 1920s. Friends said there was an evangelical strain about many of his undertakings later in life as well. As chairman and president of American Motors from 1954 until 1962, Mr. Romney played a key role in bringing the compact economy car to the U.S. public. He oversaw marketing for the Rambler, which he promoted with a missionary enthusiasm. Lambasting the large chromium-laden cars produced by Ford, Chrysler and General Motors then, he declared: "Who wants to have a gas-guzzling dinosaur in his garage? . . . Think of the gas bills!" Trapped once in a St. Louis traffic jam, he lectured a taxi driver that the mess never would have happened if everyone drove smaller cars. "Next time, try a Rambler," he advised as he left the cab. He resigned from American Motors to run for governor of Michigan and defeated incumbent John B. Swainson un 1962, breaking a 14year Democratic hold on the state's governorship. During his six years as governor, a new Michigan Constitution took effect, civil rights and tax reform measures were undertaken and the state economy improved. As a politician, Mr. Romney had many of the standard attributes: a quick smile, ready handshake and a smooth delivery of speeches. But he also was blunt, unequivocal and often impatient, and he sometimes stepped on toes. As governor, he had office hours on Thursday mornings when Michigan residents could stop by and talk with him for five minutes each. He made a point of shaking hands with schoolchildren who toured the state capitol. In his personal life, he neither smoke nor drank alcohol, and he tithed regularly, giving 10 percent of his income to the Mormon Church. A physical fitness buff all his life, he exercised regularly, often playing golf early in the morning before work. In his later years, he devised what he called a "compact 18" holes, in which he played three balls on each of six holes. Mr. Romney was born in a Mormon community in Chihuahua, Mexico, and he grew up in Idaho and Utah. He attended Latter-day Saints Junior College in Salt Lake City, the University of Utah and George Washington University. While at GWU, he worked in the office of Sen. David I. Walsh (D-Mass.). During the 1930s, he worked for Aluminum Co. of America as a salesman in Los Angeles and later as Alcoa's representative in Washington. During that time, he served two years as president of the Washington Trade Association Executives. Later, he was manager of the Detroit office of the Automobile Manufacturers Asssociation. During World War Il, he was managing director of the Automotive Council for War Production and general manager of the Automobile Manufacturers Assiation. He joined Nash-Kelvinator Corp. as assistant to the president in 1948, becoming executive vice president in 1953. In 1954, Nash-Kelvinator and Hudson Motor Car Co. merged to form American Motors; Mr. Romney became its president and chairmam During the next four years at the company's helm, he took the business from a money-losing operation into prosperity. In the process, he became a wealthy man himself. In that period, Mr. Romney also was chairman of a citizens committee that studied the needs of Detroit's public schools. He led a citizens effort to call a state constitutional convention and subsequently served as a delegate to the convention. In 1931, Mr. Romney married Lenore LaFount, his high school sweetheart. History from Encyberpedia and
OldCompany.com
(old stock certificate research service)
About Specimen Certificates
Specimen Certificates are actual certificates that have never been issued. They were usually kept by the printers in their permanent archives as their only example of a particular certificate. Sometimes you will see a hand stamp on the certificate that says "Do not remove from file". Specimens were also used to show prospective clients different types of certificate designs that were available. Specimen certificates are usually much scarcer than issued certificates. In fact, many times they are the only way to get a certificate for a particular company because the issued certificates were redeemed and destroyed. In a few instances, Specimen certificates were made for a company but were never used because a different design was chosen by the company. These certificates are normally stamped "Specimen" or they have small holes spelling the word specimen. Most of the time they don't have a serial number, or they have a serial number of 00000. This is an exciting sector of the hobby that has grown in popularity over the past several years.