Beautifully engraved specimen warrant certificate from the Bank of Nova Scotia printed in 1970. This historic document has an ornate border around it with the company's name on top center. This item has the printed signature of a Company officer.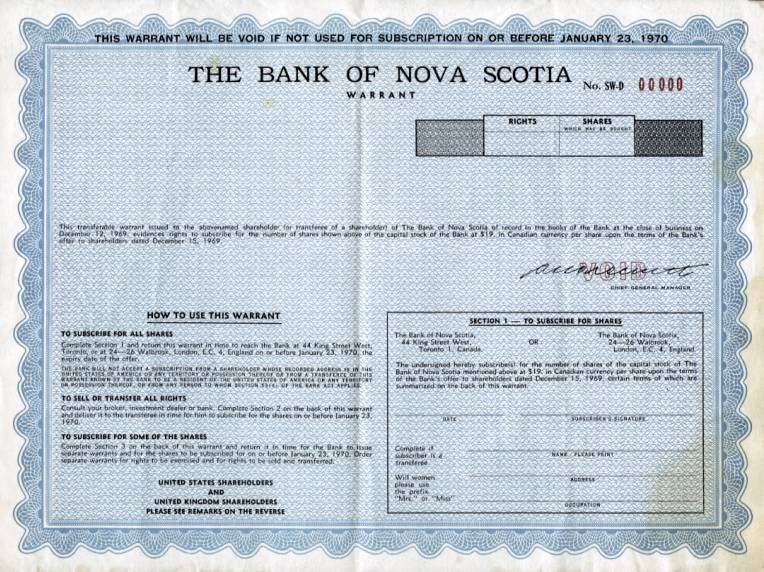 Certificate
The Bank of Nova Scotia (French: Banque de la Nouvelle-Écosse), commonly known as Scotiabank (French: Banque Scotia), is the third largest bank in Canada by deposits and market capitalization. It serves more than 21 million customers in over 55 countries around the world and offers a broad range of products and services including personal and commercial banking, wealth management, corporate and investment banking. With assets of $743.8 billion, Scotiabank shares trade on the Toronto and New York stock exchanges. The bank was incorporated by the Legislative Assembly of Nova Scotia on March 30, 1832, in Halifax, Nova Scotia, with William Lawson (17721848) serving as the first president. The bank moved its executive offices to Toronto, Ontario, in March 1900. Scotiabank has billed itself as "Canada's most international bank" due to its acquisitions primarily in Latin America and the Caribbean, but also in Europe and India as well. BNS Institution Number (or bank number) is 002. The company ranked at number 84 on the Forbes Global 2000 listing in 2013 and is currently under the leadership of Brian J. Porter who serves as President and CEO. History from OldCompany.com and
SavingsBonds.pro
(collectible Savings Bonds website)
About Specimen Certificates
Specimen Certificates are actual certificates that have never been issued. They were usually kept by the printers in their permanent archives as their only example of a particular certificate. Sometimes you will see a hand stamp on the certificate that says "Do not remove from file". Specimens were also used to show prospective clients different types of certificate designs that were available. Specimen certificates are usually much scarcer than issued certificates. In fact, many times they are the only way to get a certificate for a particular company because the issued certificates were redeemed and destroyed. In a few instances, Specimen certificates were made for a company but were never used because a different design was chosen by the company. These certificates are normally stamped "Specimen" or they have small holes spelling the word specimen. Most of the time they don't have a serial number, or they have a serial number of 00000. This is an exciting sector of the hobby that has grown in popularity over the past several years.