Beautifully engraved certificate from the Bay Area Ghosts, Inc. issued in 2002. This historic document was printed by the Banknote Corporation of America and has an ornate border around it with a vignette of two ghosts with cameras with the Golden Gate Bridge in the background. This item has the printed signatures of the Company's President and Chief Executive Officer, and Assistant Treasurer.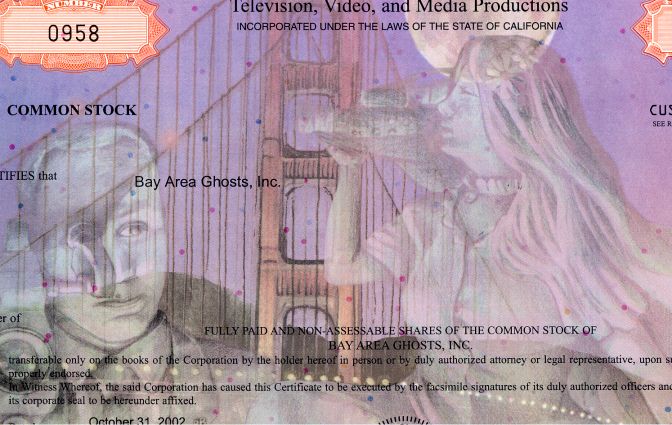 Certificate Vignette
The Bay Area Ghosts documentary, also known as San Francisco Ghosts, provides an unbiased look at haunted locales ( including a haunted house ) throughout the San Francisco Bay Area where paranormal activity has occured. It provides information on what a ghost is and where paranormal activity has been experienced at homes and businesses. A follow-up feature is now being reviewed, along with other types of productions. Included are the following locations: Queen Anne Hotel in San Francisco, Union Hotel in Benicia, U.S.S. Hornet Aircraft Carrier in Alameda, Moss Beach Distillery south of San Francisco, Rose Hill Cemetery at Black Diamond Mines near the City of Clayton Nationally acclaimed paranormal investigators are interviewed, including Jim Fassbinder, creator of the San Francisco Ghost Walk, and Loyd Auerbach, author of ESP HAUNTINGS AND POLTERGEISTS. History from
StockResearch.pro
(Professional Old Stock Certificate Research Service).