Beautifully engraved $1000 and £200 Sterling Gold Bond certificate from the Blue Ridge Railroad Company dated 1869. This historic document was printed by the American Bank Note Company and has an ornate border around it with a vignette of a train passing by near a body of water. U.S. tax stamp affixed to face. This item is hand signed by the Company's President and Secretary and is over 150 years old. Signed by Henry Clews as Trustee. Over 30 interest payment coupons attached on bottom. Cut cancelled. EF. Payable in Gold coin $1,000 or 200 pounds.
Certificate Vignette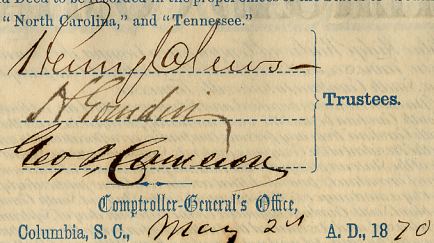 Henry Clews' Signature as Trustee
The Blue Ridge Railroad was chartered on Dec. 16, 1852, to build a line from Edgefield via Abbeville, Anderson, and Walhalla in South Carolina; Rabun Gap in Georgia; and down the Little Tennessee River in North Carolina and Tennessee to Knoxville. Clews, Henry 1834-1923 - Financier. Author of Fifty Years in Wall Street. Founded New York brokerage of Clews & Co. Poors Manual 1893 - Leased by Columbia and Greenville RR Co. - Blue Ridge Railroad--Anderson, S.C., to Walhalla, S. C., 32.50 miles. Chartered in 1852 and road opened in 1859. As projected, will be carried to the Tennessee Line, and there connect with a line now under construction from Knoxville south. The total distance between Knoxville and Anderson is about 185 miles. The State of South Carolina supplied the means for constructing the road; cost about $2,100,000.