Beautiful RARE certificate from the Brooklyn Vitrified Tile Works issued in 1917. This historic document was printed by the Broun - Green Company and has an ornate border around it with a vignette of two allegorical women sitting beside an eagle perched on top of a serene portrait. This item has the signatures of the Company's President, Edward A. Media and Treasurer, A. H. Bonnell and is over 92 years old.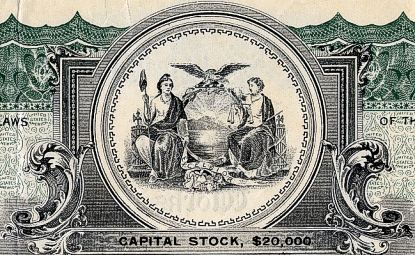 Certificate Vignette
Leadless decorative tiles, faience, and mosaic By William James Furnival - 1904 The New York Vitrified Tileworks, of Brooklyn (N. Y.), manufacturers of vitreous floor-tiles, ceramic and cut mosaics, etc., was established in A.D. 1891 by Mr. A. H. Bonnell. This factory, it appears, is on the site of the old International Tile Co., which was established about 1882, and was one of the very few pioneer factories making glazed, printed, decorated, and enamel tiles, as well as encaustic and plain tiles. The raw materials are all from the states either east or south of New York State. The fuel used is coal of bituminous nature from Maryland. The New York Vitrified Tileworks Co. claim to be the first in America to make a speciality of vitreous floors and ceramic mosaics. Their yearly capacity in vitreous and ceramic flooring-tile is said to be about 400,000 square feet. In 1896, the New York Vitrified Tile Company sold out its interest to their Manager, AH Bonnell, who formed a new company called the Brooklyn Vitrified Tile Works.