Beautiful certificate from the Buffalo Hump Syndicate issued in 1902. This historic document has an ornate border around it with a vignette of miners working underground. This item has the signatures of the Company's President, Charles Sweeney and Secretary, and is over 108 years old. The certificate was issued to and endorsed on the back by George W. Young.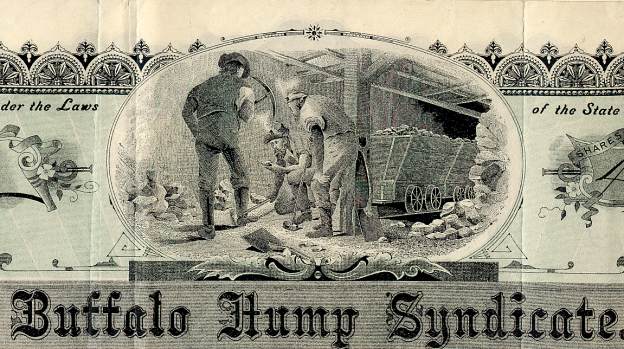 Certificate Vignette
Buffalo Hump Mining District Elk City, Idaho In April 1900, Charles Sweeney, well known in the Coeur d'Alene District, put up a mill on site and work began in earnest. A good wagon road was built from Orogrande, Idaho. Charles Sweeney was a second generation Irish immigrant who ventured westward to seek his fortune after the Civil War and moved to the Coeur d'Alenes during the first wave gold rush in 1883-1884. Sweeney bought up the district's first town site and plunged immediately into the prospecting, speculation, and manipulation that were to characterize his whole career. He was in many ways typical of the self-made entrepreneurs of his day, impulsive, opportunistic, alternatively acquisitive and generous, shrewd and naive. Who's who in finance, banking and insurance - 1911 George Washington Young Banker; born Jersey City, N. J., July 1, 1864; son of Peter and Mary (Crosby) Young; educated in public and high schools of Jersey City, N. J., and Cooper Union of New York: married, twice; second marriage at London, England, July 20, 1000, Lillian Nordlca; children: Dorothy and George Washington, Jr. (by former marriage). Receiving teller Hudson County National Bank at the ase of 18; became secretary and treasurer of the New Jersey Title Guarantee and Trust Co., at the age of 21; at 28 became vicepresident of the U. S. Mortgage and Trust Co., and at 30 its president, which position he resigned In 1005 to take up private banking under the firm name of George W. Young & Co., of which he Is senior member. Now president and director Consolidated Palo Amartllo Rubber Co., Continental Development Co.: vice-president and director Audit Co., of New York, Mechanics Trust Co., of New Jersey, Union Gas and Electric Co.. Cincinnati, Ohio.; secretary, treasurer and director O'Rourke Engineering Construction Co.; director Cincinnati, Hamilton & Dayton Railroad, City and Suburban Homes Co., Commercial Trust Co., of New Jersey, Detroit, Toledo & Ironton Railroad Co., Interborough-Metropolltan Co., Jersey City Trust Co., Alma Coal Co., C. K. Davis Coal Co, Clarksburg, Fuel Co., Clifford B. Harmon & Co., Columbia Railway Co., Fairmont Coal Co., Hudson Cooperative Savings and Loan Ass'n, Interborough Rapid Transit Co., International import and Export Co., New York Terminal Co., Northern Railroad Co., of New Jarsey, Here Marquette Railroad Co., Perth Amboy Trust Co., Rapid Transit Subway Construction Co., Registrar and Transfer Co., New York, Riverside and Fort Lee Ferry Co., Third National Bank of Jersey City, N. J., Washington Investment Co., Windsor Trust Co. Member of Chamber of Commerce, Society of Puritans, Friendly Sons of St. Patrick, New York Zoological Society, Metropolitan Museum of Art. Clubs: Racquet and Tennis, Manhattan, Players, Rockway Hunting, Metropolitan Opera, National Democratic, Economic, Fifth Avenue Association, Automobile of America, Riding. Residence: Deal Beach, N. J. Office: 50 Cedar St.. N. Y. City Who's who in finance, banking and insurance: a biographical ..., Volume 1911 History from USGenWeb Project and
OldCompany.com
(old stock certificate research service).