Beautiful RARE Specimen Stock Certificate from the Carolco Pictures Inc. dated 1986. This historic document was printed by the American Banknote Company and has an ornate border around it with a vignette of an allegorical woman in front of a strip of file with the world in the background. This item has the printed signatures of the Company's Chairman of the Board, and Secretary. This is the first time we have had a specimen certificate for sale from this company.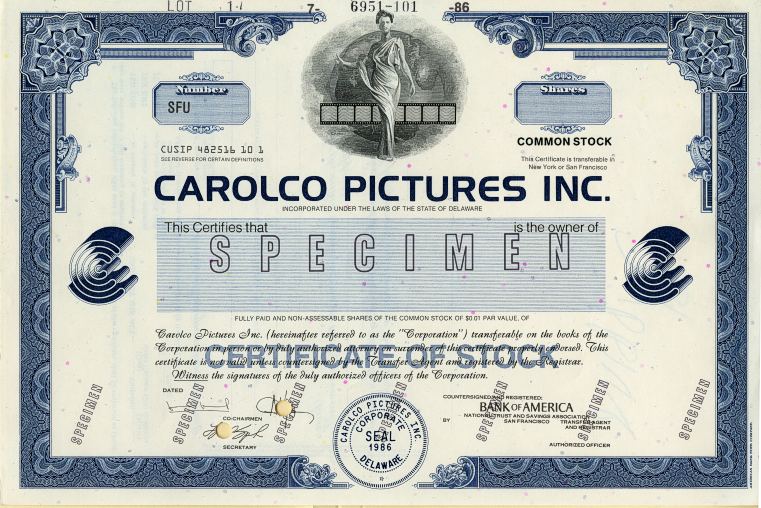 Certificate Vignette
Carolco Pictures, Inc. was a diversified entertainment company, which financed, produced, and marketed and leased motion pictures in domestic & foreign theatrical markets prior to going broke. In November 1995, Carolco filed for bankruptcy. Among the movies the company made were Sylvester Stallones Rambo series, Arnold Schwarzenegger's Total Recall, Basic Instinct, Terminator 2 and others. The Company filed a voluntary Prepackaged Plan of Reorganization (the Plan) under Chapter 11 of the Federal Bankruptcy Code in the United States Bankruptcy Court of Los Angeles, CA on November 10, 1995. Under the Plan, the Company will sell substantially all of its assets to Twentieth Century Fox Films Corp., a Unit of News Corp. for about $50 million. History from Encyberpedia and
OldCompany.com
(old stock certificate research service)
About Specimen Certificates
Specimen Certificates are actual certificates that have never been issued. They were usually kept by the printers in their permanent archives as their only example of a particular certificate. Sometimes you will see a hand stamp on the certificate that says "Do not remove from file". Specimens were also used to show prospective clients different types of certificate designs that were available. Specimen certificates are usually much scarcer than issued certificates. In fact, many times they are the only way to get a certificate for a particular company because the issued certificates were redeemed and destroyed. In a few instances, Specimen certificates were made for a company but were never used because a different design was chosen by the company. These certificates are normally stamped "Specimen" or they have small holes spelling the word specimen. Most of the time they don't have a serial number, or they have a serial number of 00000. This is an exciting sector of the hobby that has grown in popularity over the past several years.