Beautifully engraved RARE specimen stock certificate from the Warner - Lambert Pharmaceutical Company. This historic document was printed by the American Banknote Company and has an ornate border around it with a vignette of allegorical figures next to a globe with laboratory bottles in front. This item has the printed signatures of the Company's officers.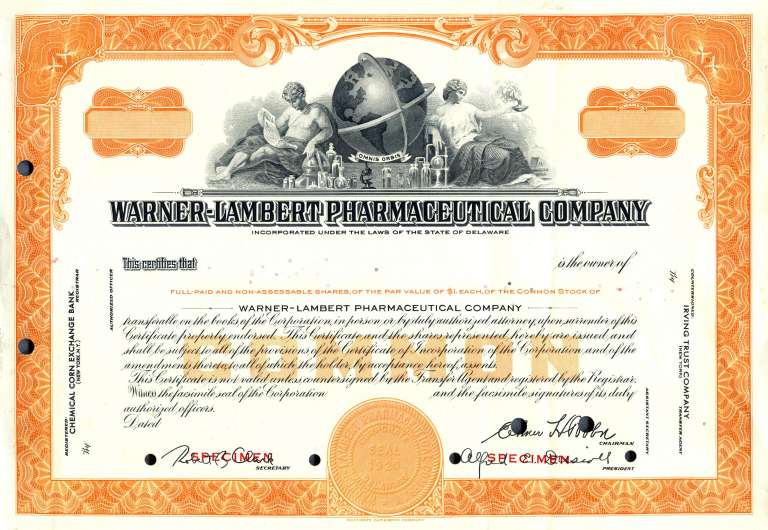 Certificate
WarnerLambert was an American pharmaceutical company. It traced it roots to drug store founded in 1856 in Philadelphia by William R. Warner. Inventing a tablet-coating process gained Warner a place in the Smithsonian Institution. The second half of the name came from the Lambert Pharmacal Company, the makers of Listerine. The two companies merged in 1955 to form WarnerLambert. In 1976, WarnerLambert took over Parke-Davis, which was founded in Detroit in 1866, by Hervey Parke and George Davis. This was followed by acquisitions of Wilkinson Sword in 1993 and Agouron in 1999. Warner-Lambert was itself acquired by Pfizer in 2000. History from Wikipedia and
OldCompany.com
(old stock certificate research service)
About Specimen Certificates
Specimen Certificates are actual certificates that have never been issued. They were usually kept by the printers in their permanent archives as their only example of a particular certificate. Sometimes you will see a hand stamp on the certificate that says "Do not remove from file". Specimens were also used to show prospective clients different types of certificate designs that were available. Specimen certificates are usually much scarcer than issued certificates. In fact, many times they are the only way to get a certificate for a particular company because the issued certificates were redeemed and destroyed. In a few instances, Specimen certificates were made for a company but were never used because a different design was chosen by the company. These certificates are normally stamped "Specimen" or they have small holes spelling the word specimen. Most of the time they don't have a serial number, or they have a serial number of 00000. This is an exciting sector of the hobby that has grown in popularity over the past several years.