Beautifully engraved specimen certificate from the Curtiss - Wright Corporation printed in 1968.This historic document was printed by the American Banknote Company and has an ornate border around it with a 4 allegorical figures one of which have wings and is holding a torch. They are standing in front of a large gear representing their aircraft manufacturing capability and there is a city in the background. This item has the printed signatures of the Company's officers.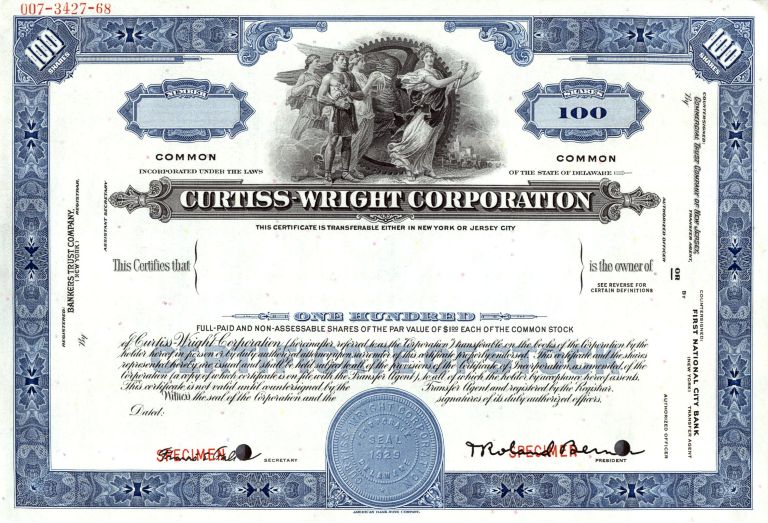 Certificate
The company has a lot of history in early aviation with the Wright in the name coming from the aviation pioneers Glenn Curtiss and the Wright Brothers. Curtiss-Wright performs metal treating and makes actuation systems used to control wing flaps aircraft including the F-16 Falcon fighter and V-22 Osprey. It also makes highly engineered valves for US Naval nuclear propulsion systems and performs shot peening and heat treating for metal durability and shaping in the automotive and construction equipment industries. US government sales made up 17% of revenues. Other customers include Boeing and Lockheed Martin, and most sales are in the US. Insurance holding company Unitrin owns 43% of the firm. The company was of significant importance to the outcome of WWII. They manufactured the P 40 Warhawk Fighter, C 46 Commando Cargo Transport, SB2C Helldiver Navy Bomber, Army A 25 Helldiver, Seagull Navy Scout Plane and the Republic Thunderbolt Fighter. History from Wikipedia, Encyberpedia and
OldCompany.com
(old stock certificate research service)
About Specimen Certificates
Specimen Certificates are actual certificates that have never been issued. They were usually kept by the printers in their permanent archives as their only example of a particular certificate. Sometimes you will see a hand stamp on the certificate that says "Do not remove from file". Specimens were also used to show prospective clients different types of certificate designs that were available. Specimen certificates are usually much scarcer than issued certificates. In fact, many times they are the only way to get a certificate for a particular company because the issued certificates were redeemed and destroyed. In a few instances, Specimen certificates were made for a company but were never used because a different design was chosen by the company. These certificates are normally stamped "Specimen" or they have small holes spelling the word specimen. Most of the time they don't have a serial number, or they have a serial number of 00000.