Beautifully engraved specimen certificate from the Charles Schwab Corporation printed in 2002. This historic document was printed by the American Banknote Company and has an ornate border with a vignette of Charles Schwab with an old push button phone, ticker tape and computer in the background. This item has the printed signatures of the company's officers including Charles R. Schwab as Chairman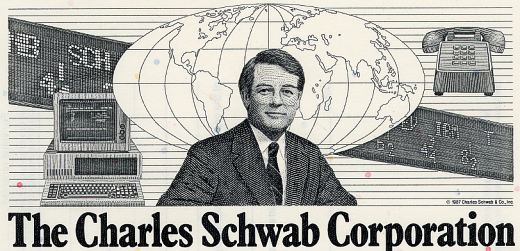 Certificate Vignette
The Charles Schwab organization began with Charles Schwab & Co., Inc, a pure discount brokerage serving mostly "do-it-yourselfers" with low-cost trading and custody services. For more than 25 years, however, our single-minded focus on the client has allowed us to pioneer a range of products and services that have changed the investing landscape and created a new model of financial services that melds people and technology to provide an integrated "high tech" and "high touch" service for investors who range from the self-directed full-time active investor, to investors who prefer to delegate the day-to-day management of their portfolios and need more guidance. Over the next several years, Schwab became a resource for individual investors - a discount brokerage where investors could manage their assets, make decisions and transact business without the conflict of interest and high-pressure sales tactics clients might have faced with traditional brokerages. We helped create a new way for individuals to invest. There was great upheaval and change at Schwab during the 1980s. By the end of the decade, they had sold theirselves to Bank of America, and then bought themselves back. Soon after the buyback, they took the company public - less than two months before one of the worst market crashes of the century. By the early 1990s, Schwab was positioning more growth. In 1992, they took their boldest step since pioneering discount brokerage: Schwab introduced MutualFund OneSource®. In its first five years, OneSource assets grew from less than $2 billion to more than $50 billion. In the mid-1990s, the Internet was just penetrating the national consciousness. Schwab anticipated the power this new medium would have for individual investors, and invested heavily in, and aggressively prepared for, online investing. Just as the Company's move into discount trading 20 years earlier paid off, foresight in the mid-1990s earned Schwab an early and significant leadership position in online investing. From 1996 to 1998, online accounts grew to 2.2 million from 600,000, and online assets grew to $174 billion from $42 billion.
---
About Specimen Certificates
Specimen Certificates are actual certificates that have never been issued. They were usually kept by the printers in their permanent archives as their only example of a particular certificate. Sometimes you will see a hand stamp on the certificate that says "Do not remove from file". Specimens were also used to show prospective clients different types of certificate designs that were available. Specimen certificates are usually much scarcer than issued certificates. In fact, many times they are the only way to get a certificate for a particular company because the issued certificates were redeemed and destroyed. In a few instances, Specimen certificates were made for a company but were never used because a different design was chosen by the company. These certificates are normally stamped "Specimen" or they have small holes spelling the word specimen. Most of the time they don't have a serial number, or they have a serial number of 00000. This is an exciting sector of the hobby that has grown in popularity over the past several years.