Beautifully engraved SCARCE Certificate from the famous Carolco Motion Pictures Company issued in 1990 for 14 Percent. This historic document was printed by the American Banknote Company and has an ornate border around it with a vignette of an allegorical woman in front of a strip of file with the world in the background.. This item has the printed signature of the Company's Chairman. Punch cancelled.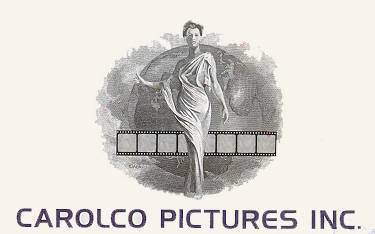 Certificate Vignette
This item is in excellent condition with normal cancellation markings. Carolco Pictures, Inc. was a diversified entertainment company, which financed, produced, and marketed and leased motion pictures in domestic & foreign theatrical markets prior to going broke. In November 1995, Carolco filed for bankruptcy. Among the movies the company made were Sylvester Stallones Rambo series, Arnold Schwarzenegger's Total Recall, Basic Instinct, Terminator 2 and others. The Company filed a voluntary Prepackaged Plan of Reorganization (the Plan) under Chapter 11 of the Federal Bankruptcy Code in the United States Bankruptcy Court of Los Angeles, CA on November 10, 1995. Under the Plan, the Company will sell substantially all of its assets to Twentieth Century Fox Films Corp., a Unit of News Corp. for about $50 million. On September 24, 1996, or as soon thereafter, a hearing will be held in the United States Bankruptcy Court, in Courtroom 1675, Los Angeles, CA to consider and act upon the motion of the Company and its subsidiaries (the Debtors) for an order authorizing and approving certain amendments to the Debtors' Master Mailing List (the Motion). In the Motion, the Debtors request that the Bankruptcy Court approve and authorize amendments to their Master Mailing List to (1) delete the names of certain entities, (2) add the names of certain entities and (3) correct the names and/or addresses of certain entities. Parties who would like to know whether they are affected by the amendments to the Master Mailing List, or if the amendments affect them and they are apposed to the amendments proposed by the Debtors, or if they would like notices of the Debtors' B ankruptcy cases sent to another entity on their behalf, or if they have any questions regarding the notice, the motion or the Debtors' Bankruptcy cases may contact the above. The Companys Second Amended Joint Plan of Reorganization dated January 15, 1997 was confirmed March 20, 1997. Shareholders did not participate under the Plan and all outstanding shares of were cancelled and deemed worthless.