Beautifully engraved SPECIMEN certificate from the Columbia Gas System, Inc. This historic document was printed by the Security-Columbian Banknote Company in 1979 and has an ornate border around it with a vignette of an allegorical woman holding a torch. This item has the printed signatures of the Company's Senior Vice President and Secretary and is over 23 years old.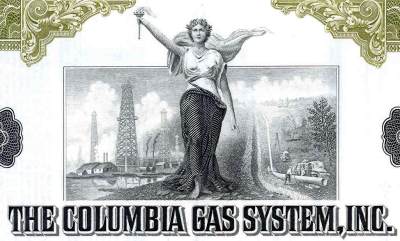 Certificate Vignette
Columbia Gas System was a holding company that included oil and natural gas production operations, interstate pipelines, local gas distribution companies, independent power production, national gas marketing, propane distribution and fuel management services. Its local gas distribution companies include Commonwealth Gas Services Inc. of Virginia, which serves Portsmouth, Lynchburg, Staunton, Herndon, Manassas and the Dulles area, and Columbia Gas of Maryland, which serves western Maryland. Columbia had filed for bankruptcy protection in 1991 after it became locked into contracts to buy natural gas at above-market prices.