Beautiful certificate from the The Columbia Motors Company issued in 1920. This historic document was printed by the Gregory, Mayer & Thom Co., Detroit and has an ornate border around it with a vignette of an eagle perched on the dome of a building. This item has the the hand signatures of the Company's President, J. G. Bayerline and Secretary, A. T. O'Connor and is over 91 years old.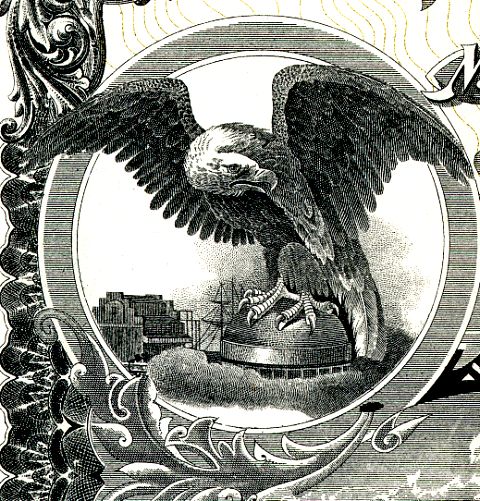 Certificate Vignette
Columbia Motors was a Detroit, Michigan, United States based automobile manufacturer which produced automobiles from 1917-1924. Columbia Motors was incorporated in 1916, with J. G. Bayerline as company president and produced two models powered by Continental six cylinder engines . In 1923, Columbia acquired Liberty Motor Car. The Columbia Motors Company was founded in 1915 by a who's-who list of Detroit's auto executives. J.G. Bayerline, Walter Daly, and T.A. Bollinger had left King Motor Company that year to be joined by William Metzger of E-M-F and A.T. O'Connor of Packard. Columbia products reflected the company's management team by utilizing superior parts from various manufacturers. Continental engines were fitted with Stromberg carburetors and mated to Warner transmissions with a Borg & Beck clutch. Meanwhile, axles were supplied by Timken, radiators by Harrison, and springs were Detroit Self-Lubricating pieces. An innovative motor temperature control was however a Columbia original and was most likely the first fitment of such a device within this relatively inexpensive price range. A thermostat opened the radiator's shutters once an increase in temperature was detected. The first two-seat model to be offered by the company was the Series 20 Roadster, introduced three years later with an additional 13 horsepower. History from Wikipedia and
OldCompany.com
(old stock certificate research service).